Requirements
Slack Account: May Require Slack Administrative Privileges (in Slack this is called Primary Owner) to Integrate Incoming Webhooks
Supported VictorOps Versions: Getting Started, Essentials, & Full Stack
What you need to know:  Slack Multi-Channel is currently in beta. If you'd like to enable the feature, please first email us at victorops-support@splunk.com.
Known Issues: There are two known issues with the current beta.
If you have more than 1000 Slack channels, not all of them will be available for configuration at this time.
If you map multiple VO Team : Escalation Policies to a single Slack channel, messages typed into the Slack channel are duplicated in the incident timeline.
Before Getting Started
If you had previously installed our legacy Slack (webhook) integration you will need to disable the integration to prevent double messages from being sent between the two systems.
To do this, select the Slack (webhook) integration from the integrations page.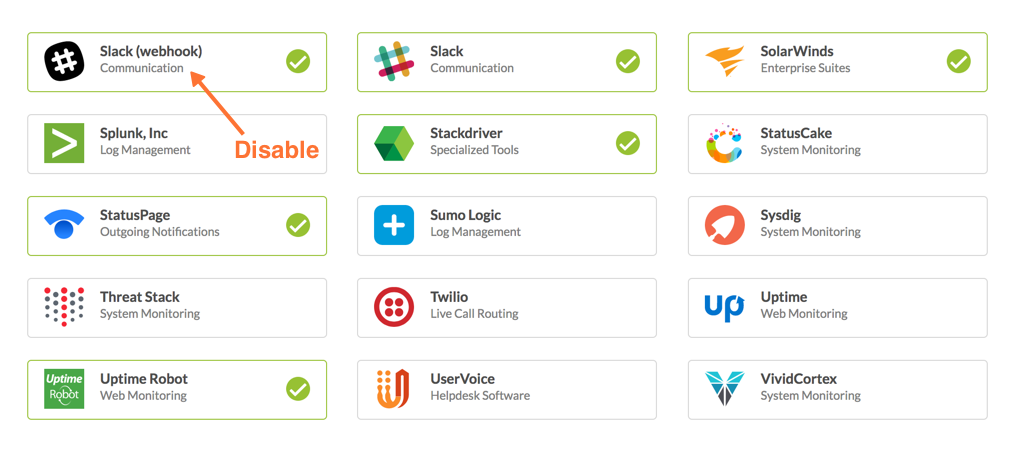 And then select Disable to revoke the integration.

---
Transfer of Ownership in Slack
Please be sure to recognize the administrative rights of your Slack environment. If you are not the Primary Owner of your Slack workspace you will need to seek out permission to transfer ownership in order to integrate with VictorOps.
These permissions may be managed in Slack under the main settings >> Manage Members.

Then, Transfer Ownership to the user tasked with the integration.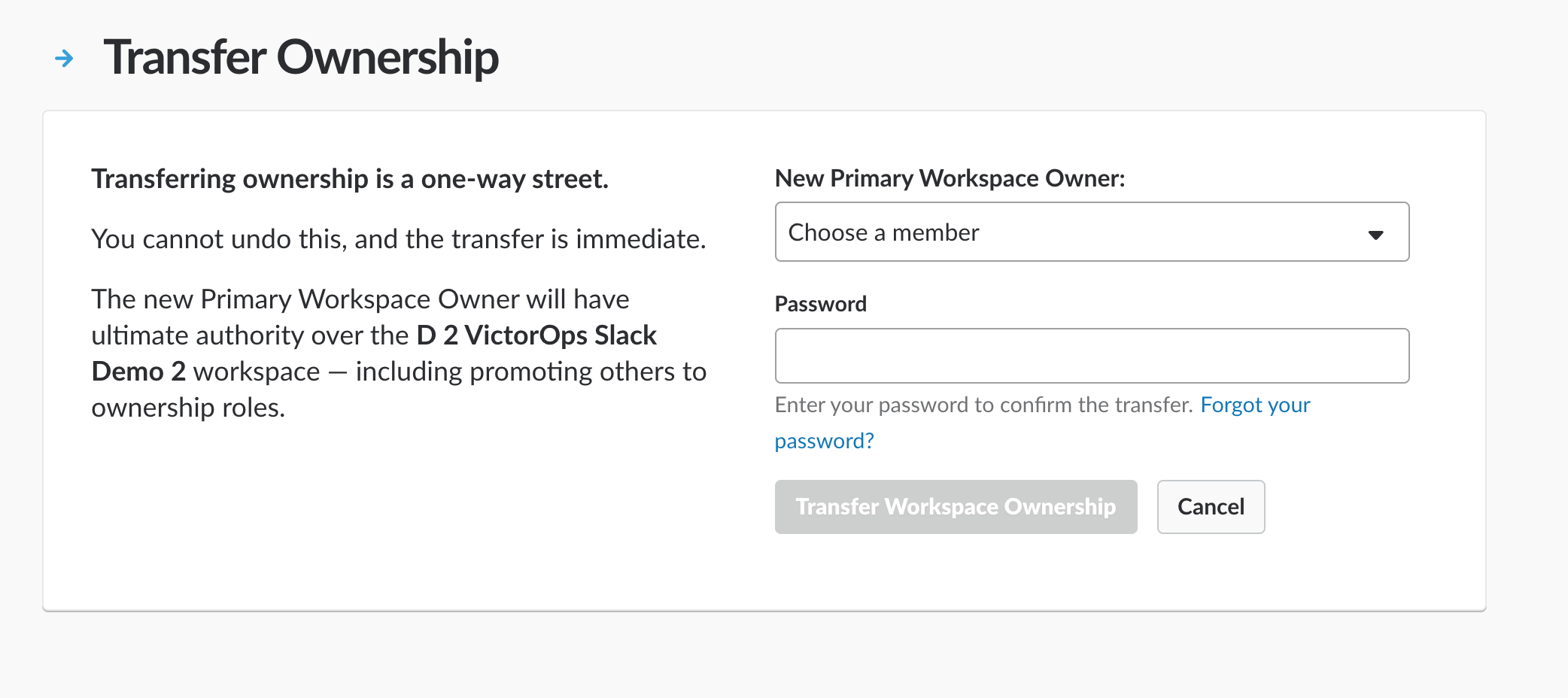 Primary Ownership may be easily transferred back to the original owner once the integration is complete.
---
 In VictorOps
From the VictorOps web portal select Settings then Alert Behavior, then Integrations.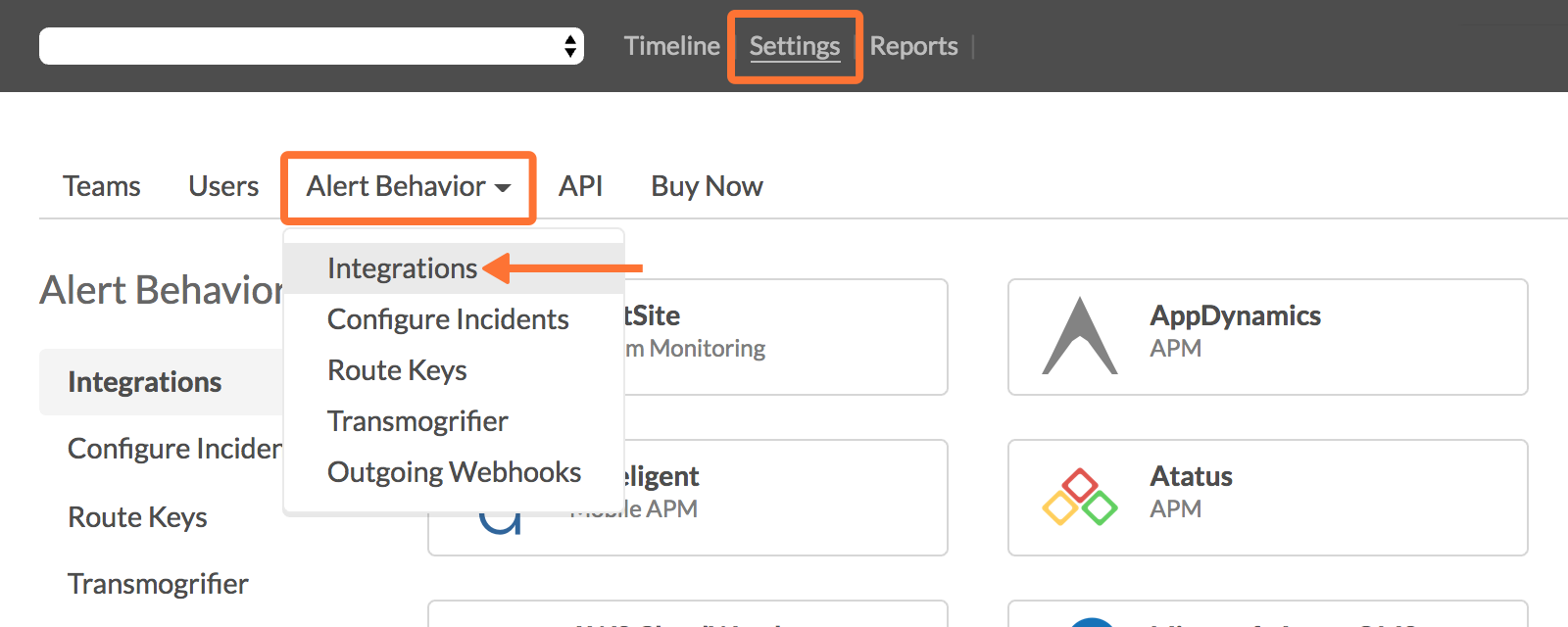 Next, select the Slack integration tile.

Then select Enable Integration.

This will bring up a Slack authentication screen to first pick the team you want to integrate with and then to log in.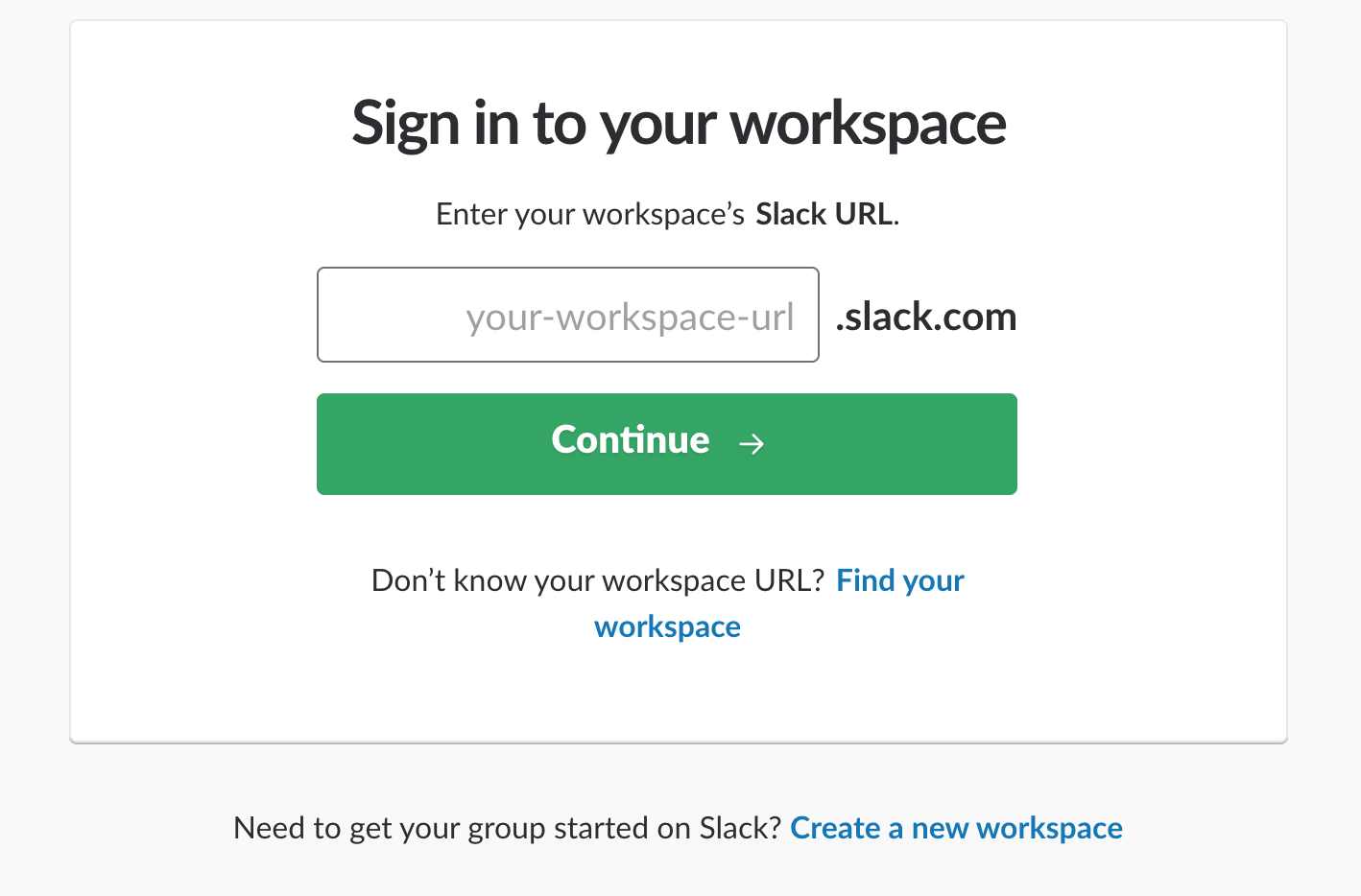 Then, enter your email and password.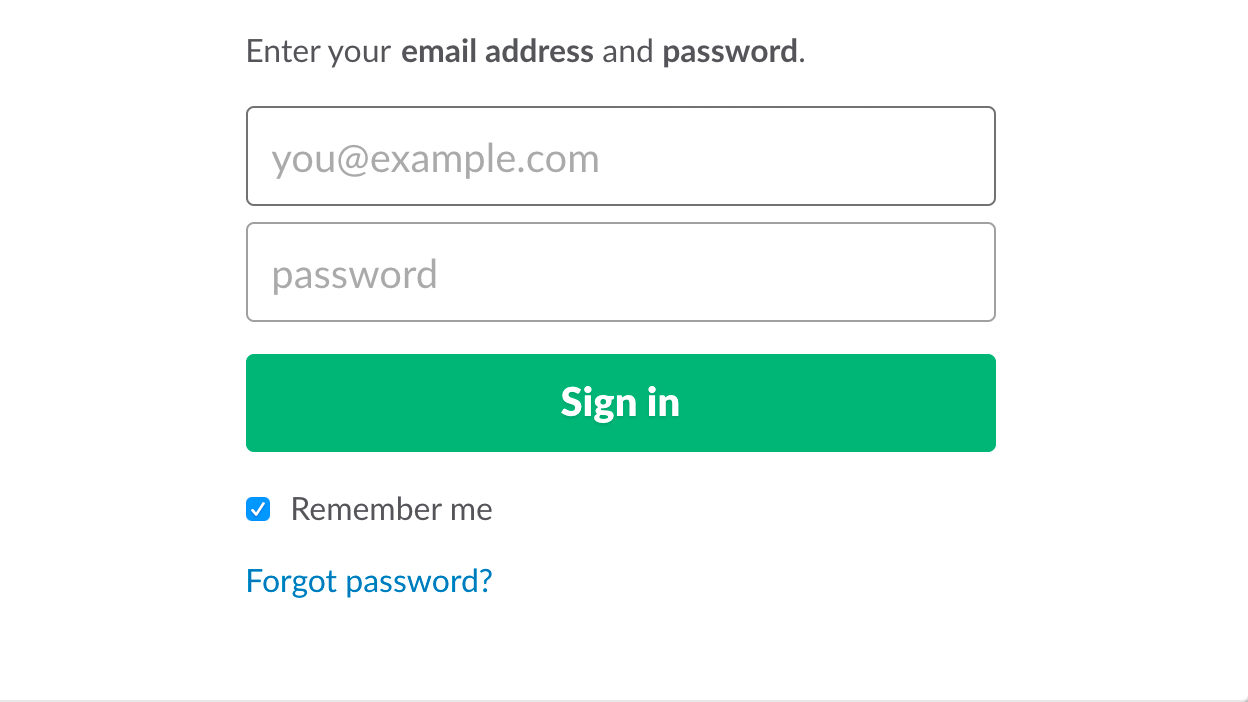 Next, Authorize the application.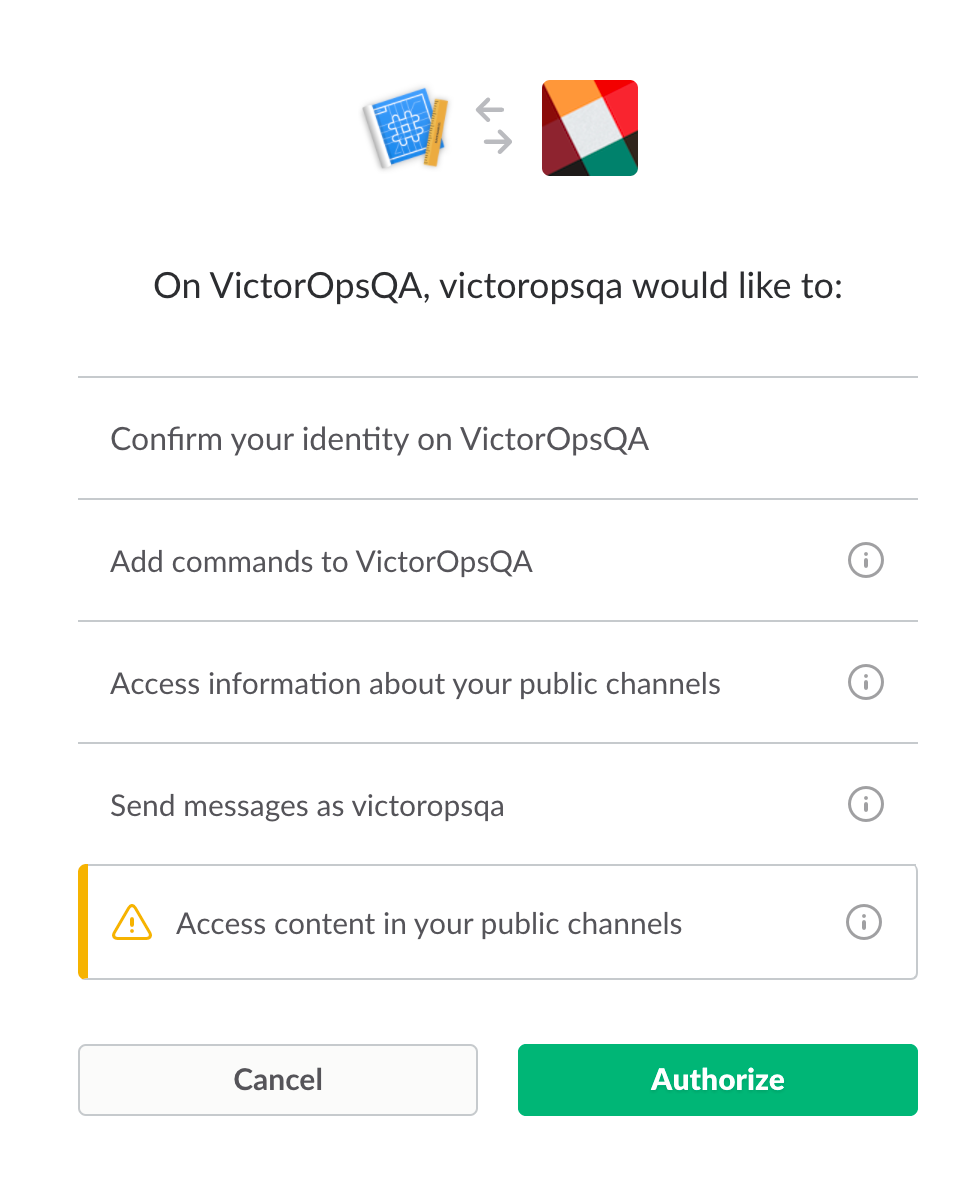 If you've already integrated Slack with VictorOps, you'll be prompted on your Slack integration settings page to upgrade to Slack v2.3.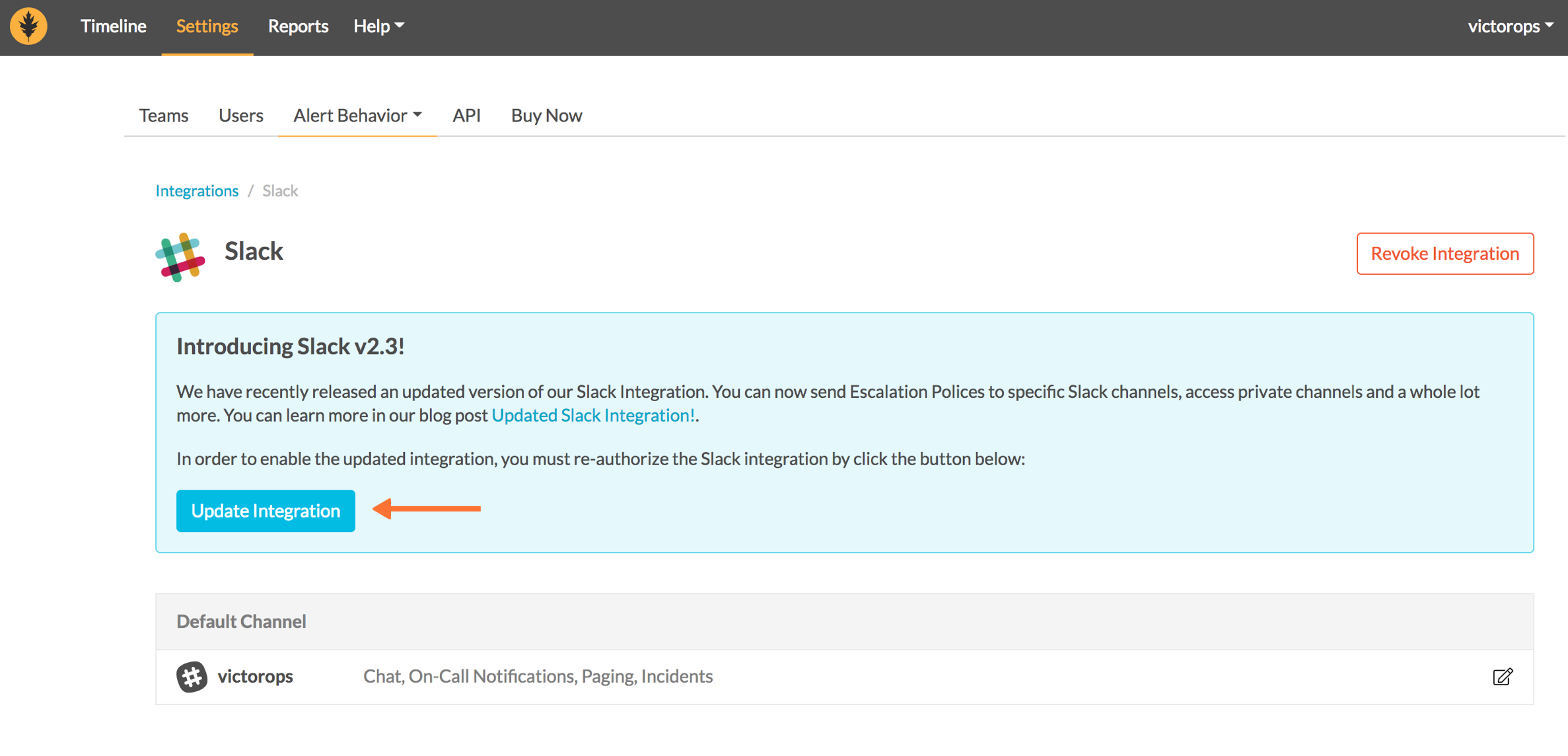 Once you've updated the integration you'll be able to Add Mapping between VictorOps Escalation Policies and Slack Channels. Initially, you'll be prompted to pick a default Slack channel.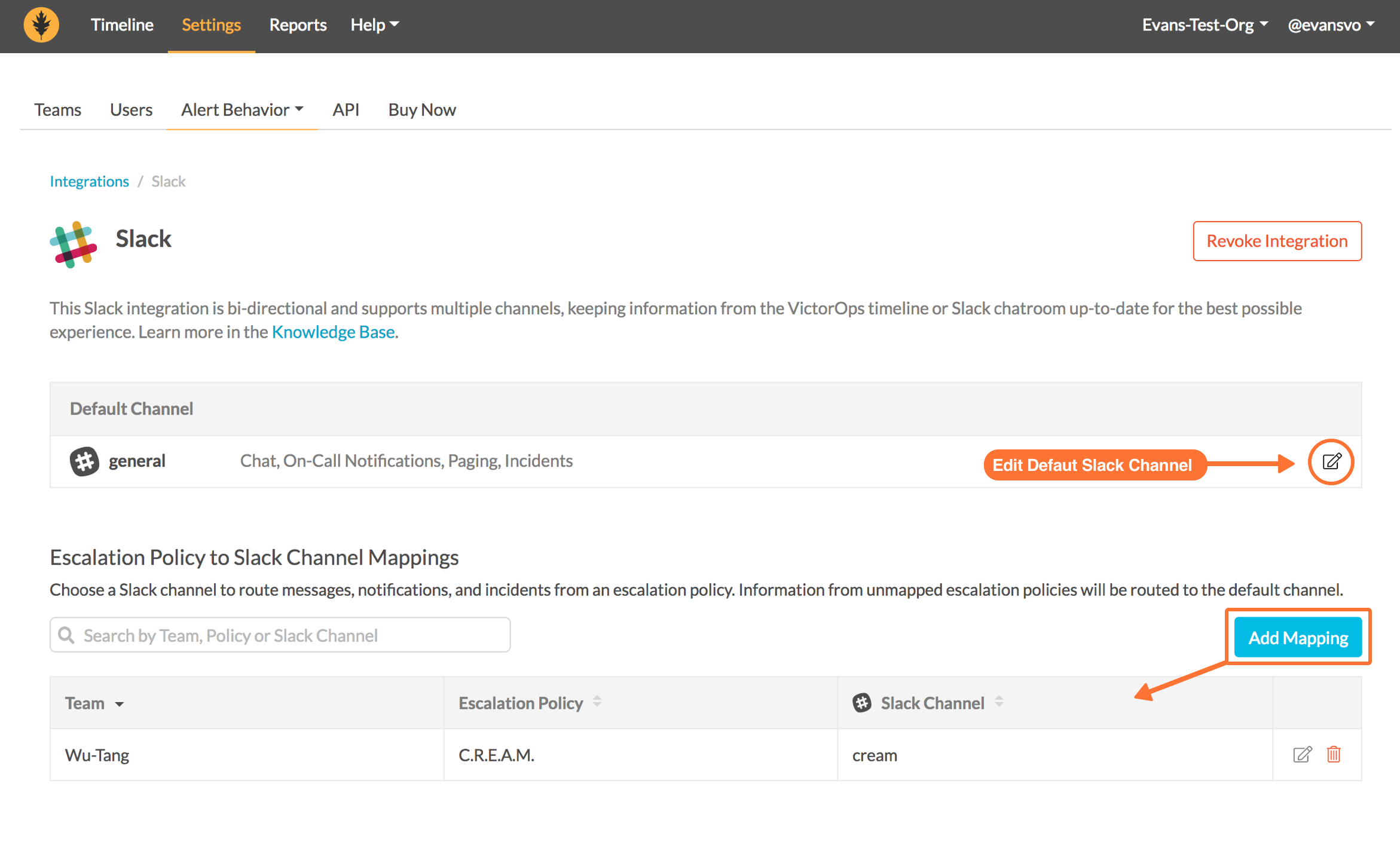 Once you've Added Mapping you'll be able to select from a list of existing Escalation Polices and Slack Channels, as well as define settings to individual Slack Channels for more granular functionality. Private channels work as well.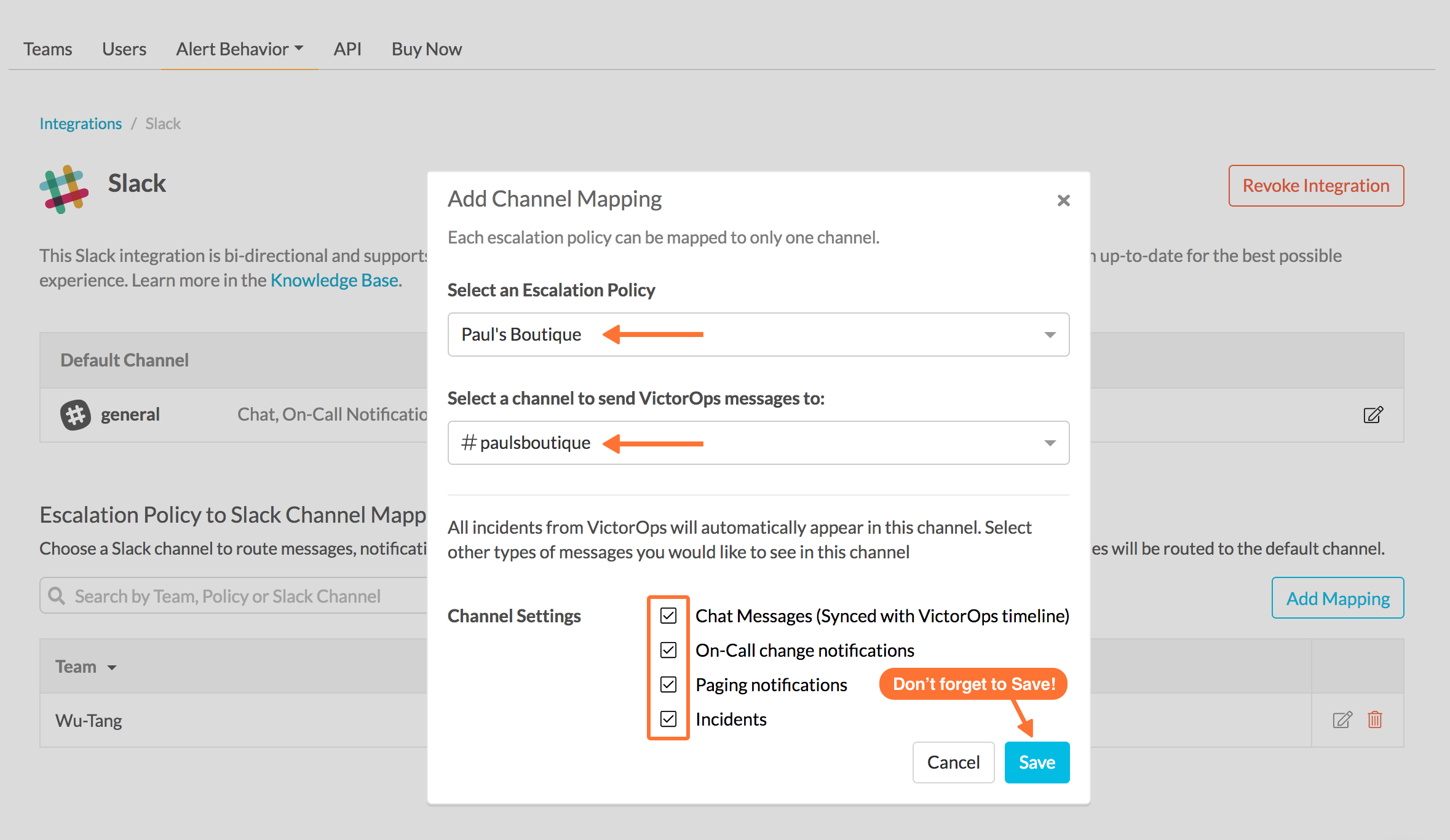 Toggling on and off the Channel Settings check boxes are good way to limit noise and control information flow into specific channels.
You may also map multiple Escalation Policies to Slack Channels.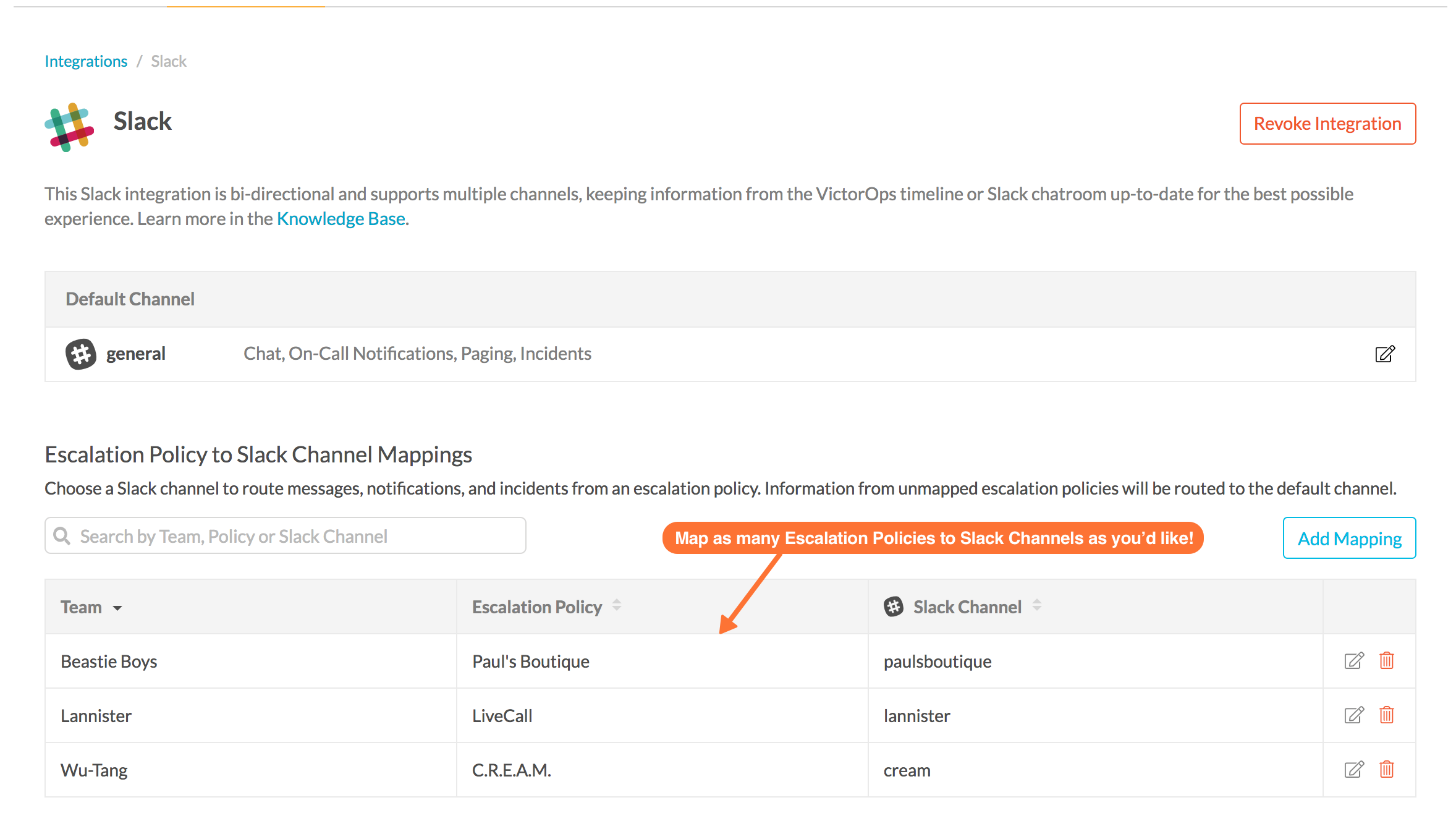 When mapping private Slack channels you must give the VictorOps app permission to post to your private Slack channel. First, map your Escalation Policy to your desired private Slack channel.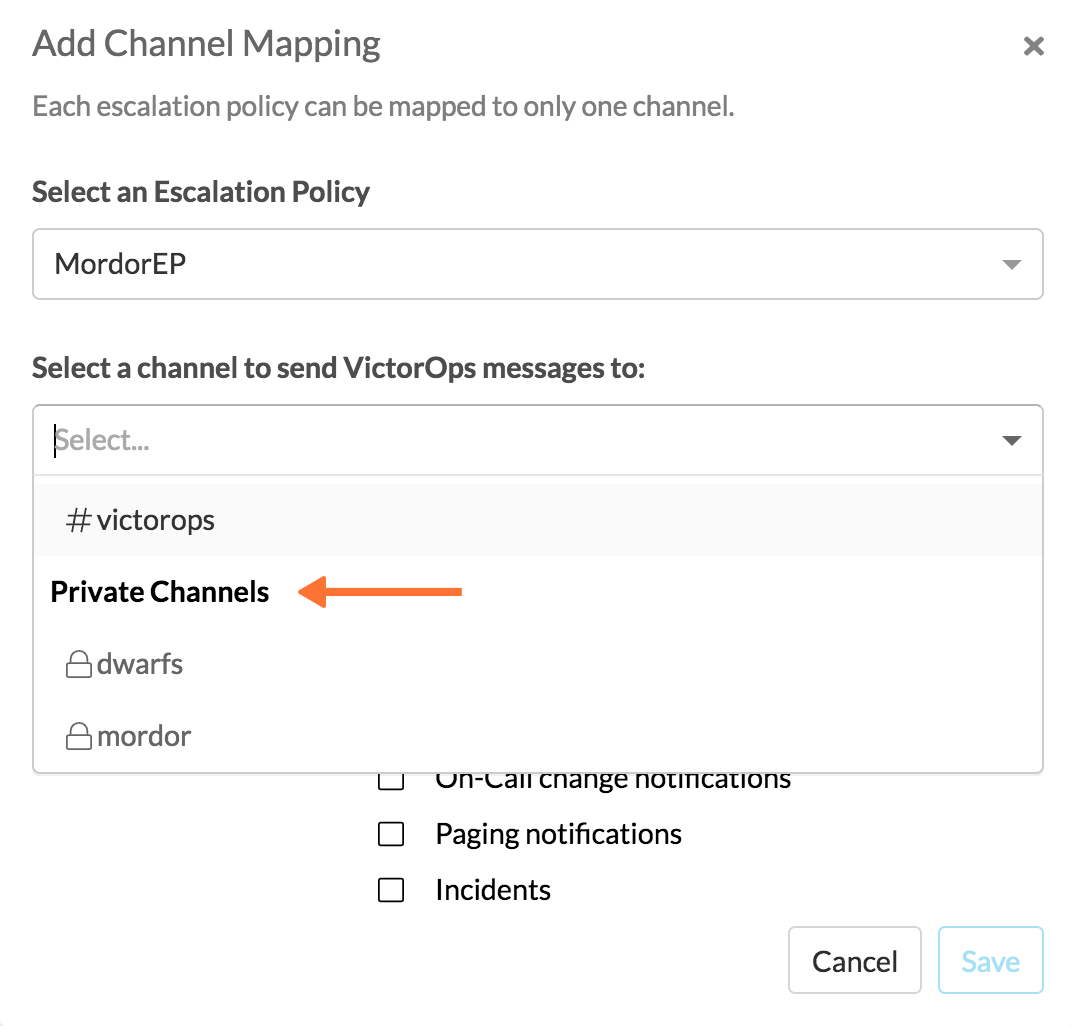 Next, head over to Slack and in your private Slack channel @mention VictorOps or select 'Add an app'.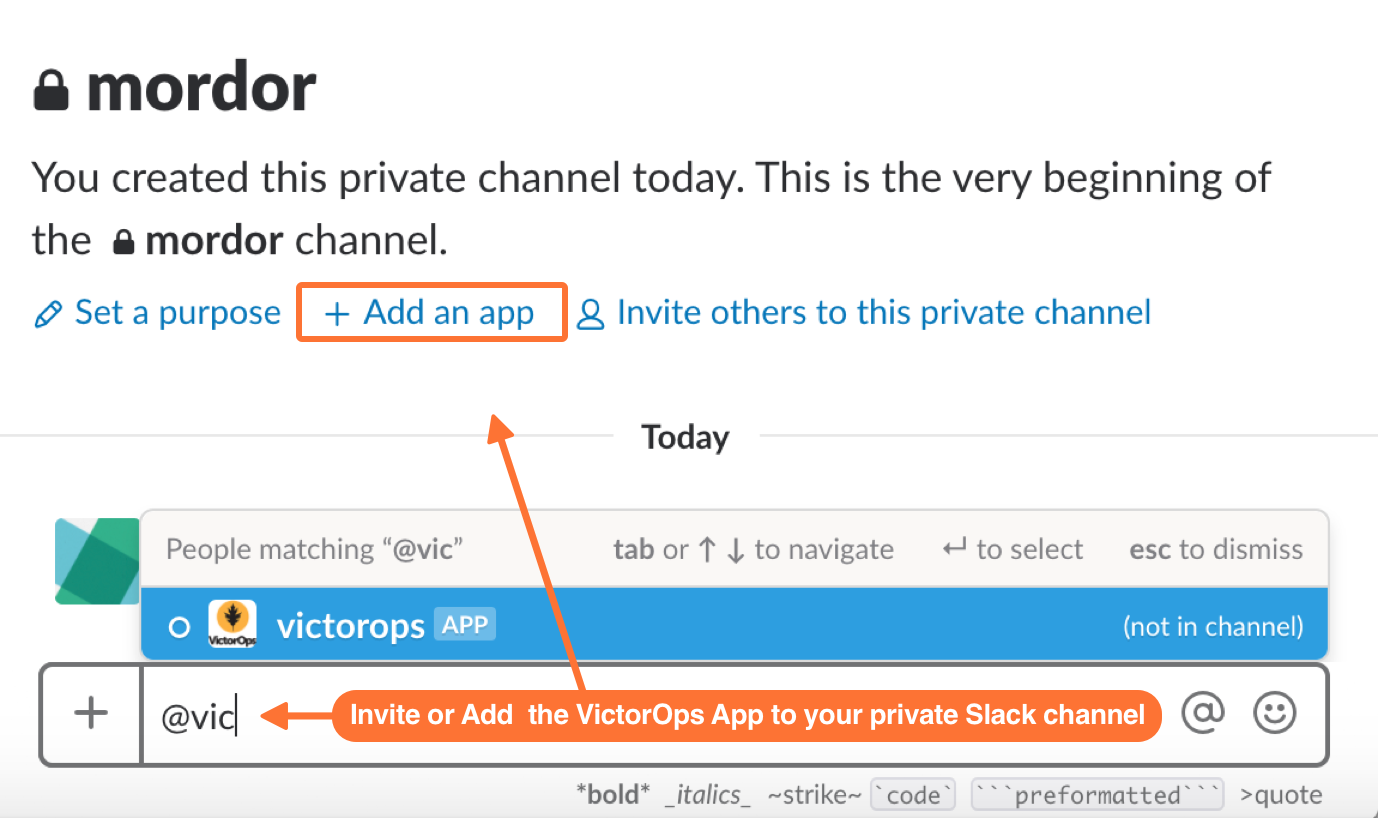 Finally, give the app permission by selecting 'Invite Them'.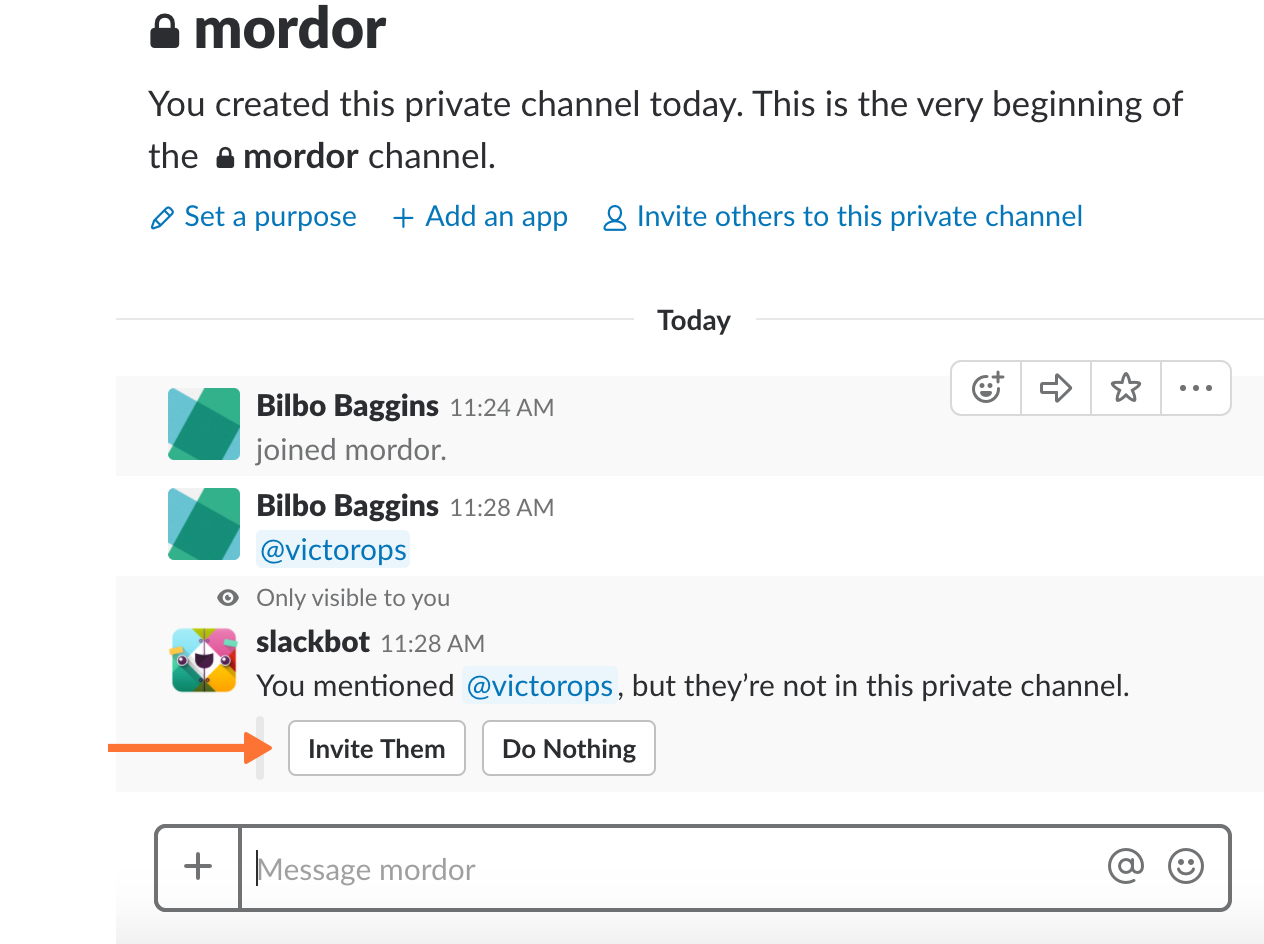 Now, the VictorOps app will be able to post to your private channel.
---
In Slack
Triggered VictorOps incidents will route to specified Slack Channels based on Escalation Policy. From Slack you may Acknowledge, Reroute, Resolve, and even Snooze incidents.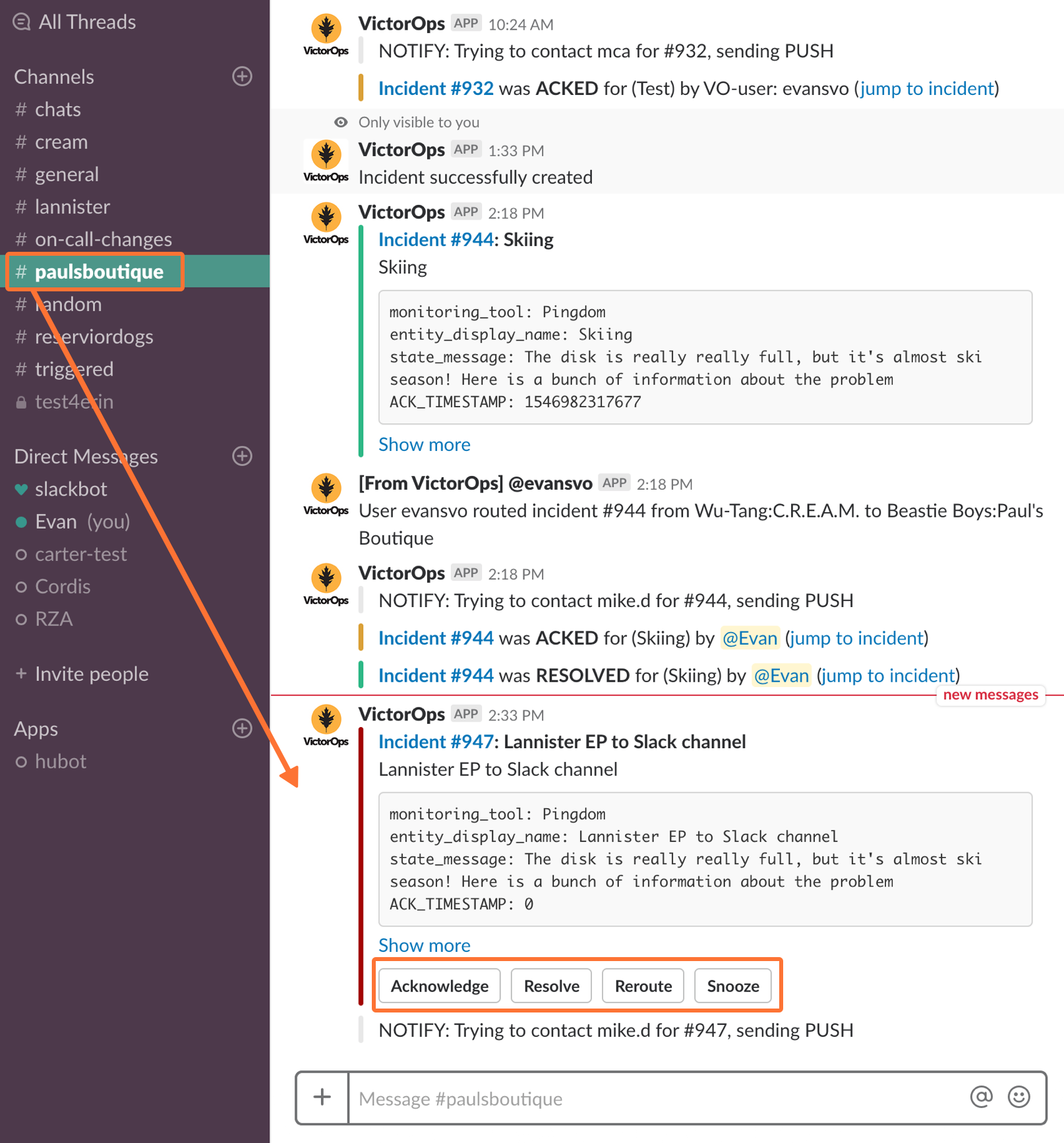 Slack Slash Commands
Currently, there are three Slack slash commands that work with VictorOps:
/victor-linkuser
/victor-unlinkuser
/victor-createincident 
(Please note: when using this command please be sure to use the full syntax including brackets. For example: 
/victor-createincident [make sure you use the correct syntax] for [victorops username]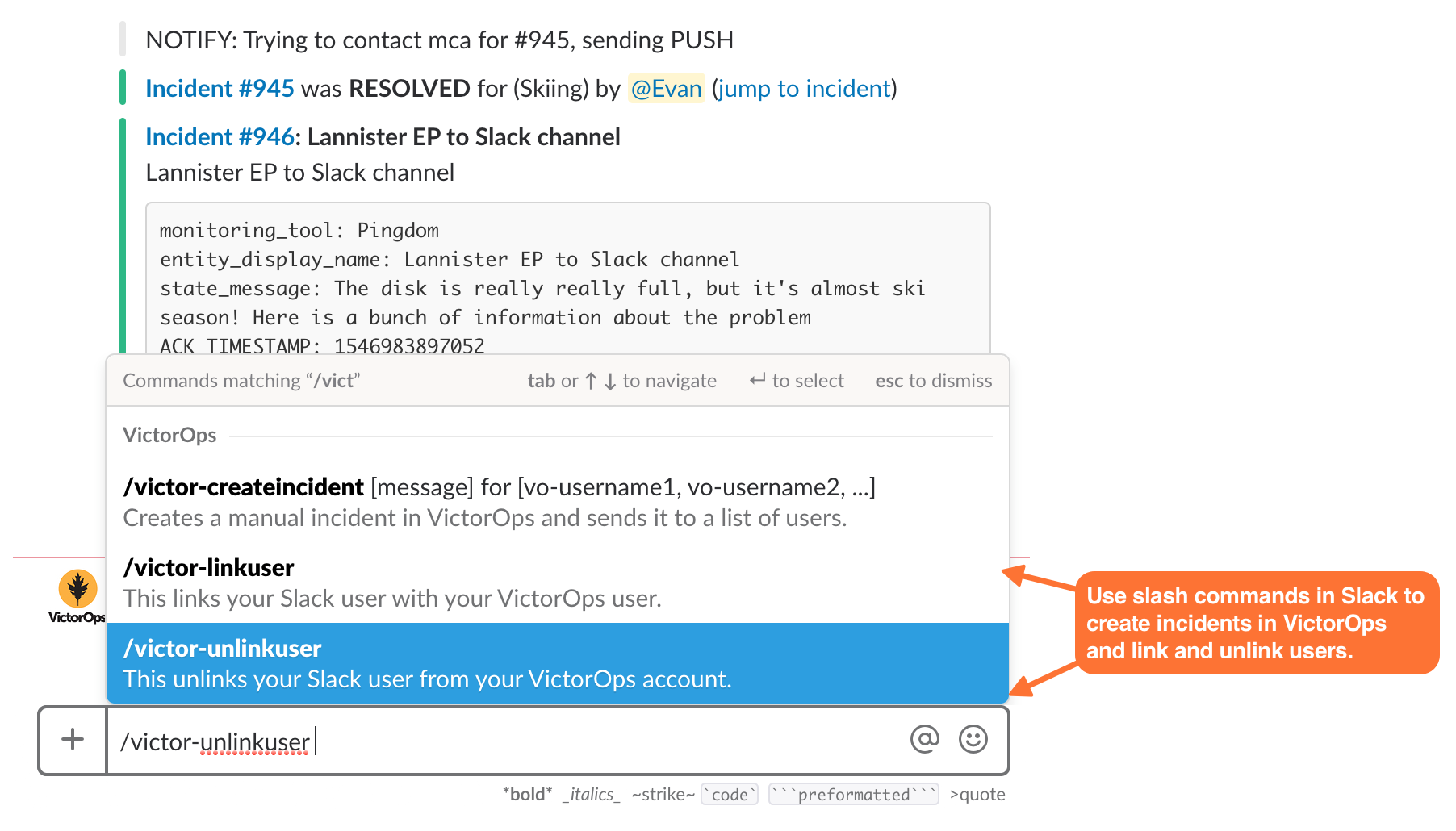 Tips & Tricks
To keep communication about an incident all in one place, use a hashtag and the incident number to reference a specific incident within Slack.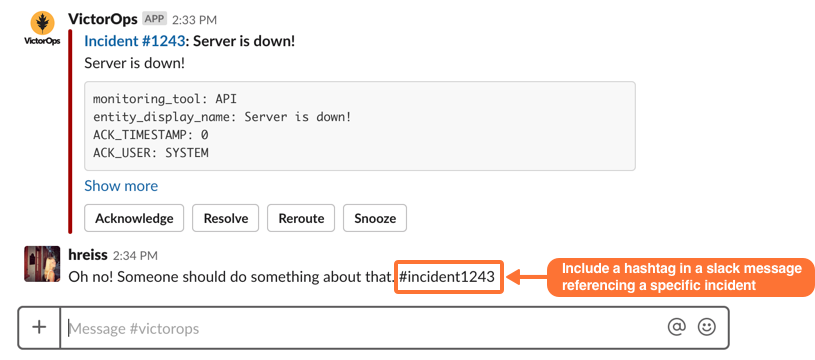 The message that contains this hashtag will then appear in the relevant incident's timeline: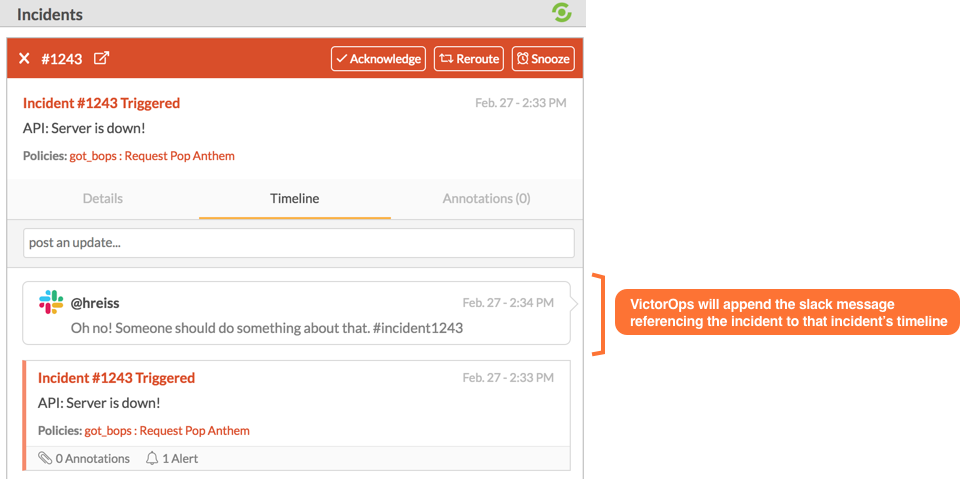 If you need to enable the integration, if you have any feedback or if you need to report an issue with the Slack integration, please don't hesitate to reach out to us at victorops-support@splunk.com.