Your Paging Policy is executed when an incident is routed to you based on a team's Escalation Policy. Learn about team escalation policies. Your Paging Policy is part of your personal profile and gives you control of how, and how often you're contacted when incidents are routed to you. Choose to receive notifications by push, sms, email, or phone, at the intervals that work for you.
How to set up your Personal Paging Policy
In the top right hand corner of the web UI, click your Username -> Your Profile:

Input your contact methods
We recommend adding a few different contact methods (i.e. phone number and email) so you can have multiple steps in your paging policy.

Personal paging policy step setup
Next, configure how you'd like to be contacted when an Incident is routed to you. Here's an example Paging Policy:
When VictorOps detects an Incident, immediately sends Push Notification and a message to my Email
If the incident hasn't been acknowledged after 1 minute, send a SMS to my mobile number.
After 15 minutes, and every 15 minutes until the incident is acked, Call my cell phone/home phone.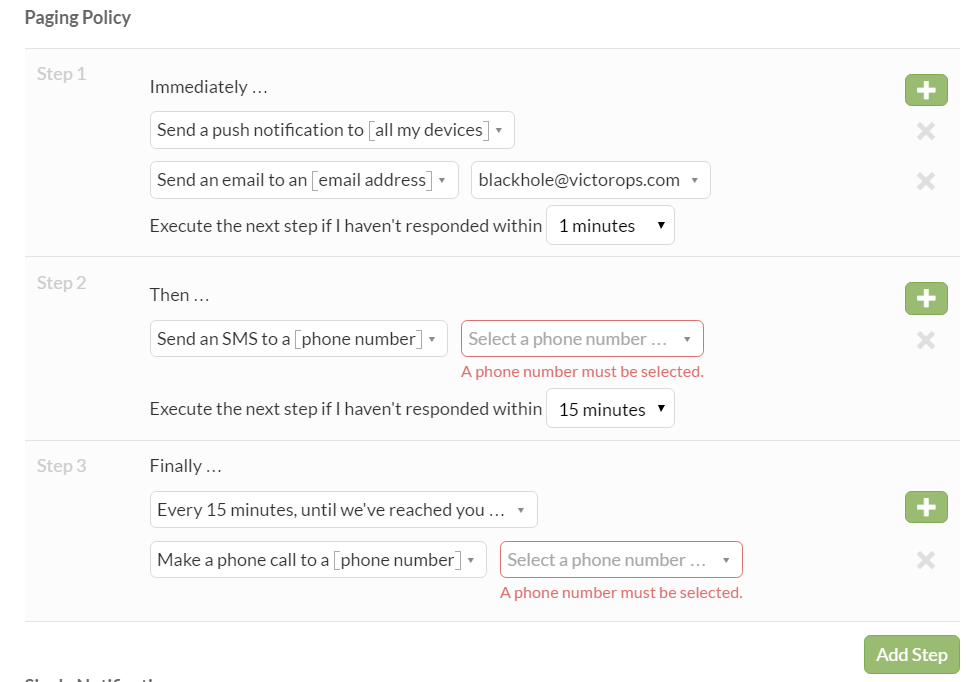 Single Notification
When the following box is checked under Settings -> Alert Behavior -> Configure Alerts

You will be notified on Resolved Notifications by whats configured in the Single Notification setting  in your Personal Settings.