This article will help iOS users understand the features and capabilities that are specific to the iOS version of the VictorOps mobile application.
Please note: We highly recommend that users configure their personal paging policy to include a diverse set of contact methods. Relying on a single method of notification, like push notifications, for example, creates a single point of failure that may cause you to miss a critical incident notification.
---
Add VictorOps Contact
VictorOps uses a total of five source phone numbers for delivery of phone call and SMS notifications. (Full list here)  This is part of a load balancing strategy that helps us ensure timely delivery of notifications. Luckily, you do not need to manually create a contact and add these numbers.  There is a feature within the app that will do this for you.
Click on the Settings icon bottom right corner of the application, and scroll down to find choose Add VictorOps to Your Contacts.


This will automatically create a new contact with all 5 numbers already included.
This will also give you the option to save VictorOps to your Favorites, in order to ensure that calls from VictorOps are able to override Do Not Disturb mode.  It also allows you to give the VictorOps contact "Emergency Bypass" capabilities, ensuring that you will always get your phone and SMS notifications regardless of the state of your phone (provided it is turned on).
---
iOS App Permission Settings
Navigate to your iOS Settings. Scroll down to the application settings area to locate and tap on VictorOps.
In the VictorOps settings, make sure Cellular Data is on and then tap Notifications (Badges, Sounds, Banners).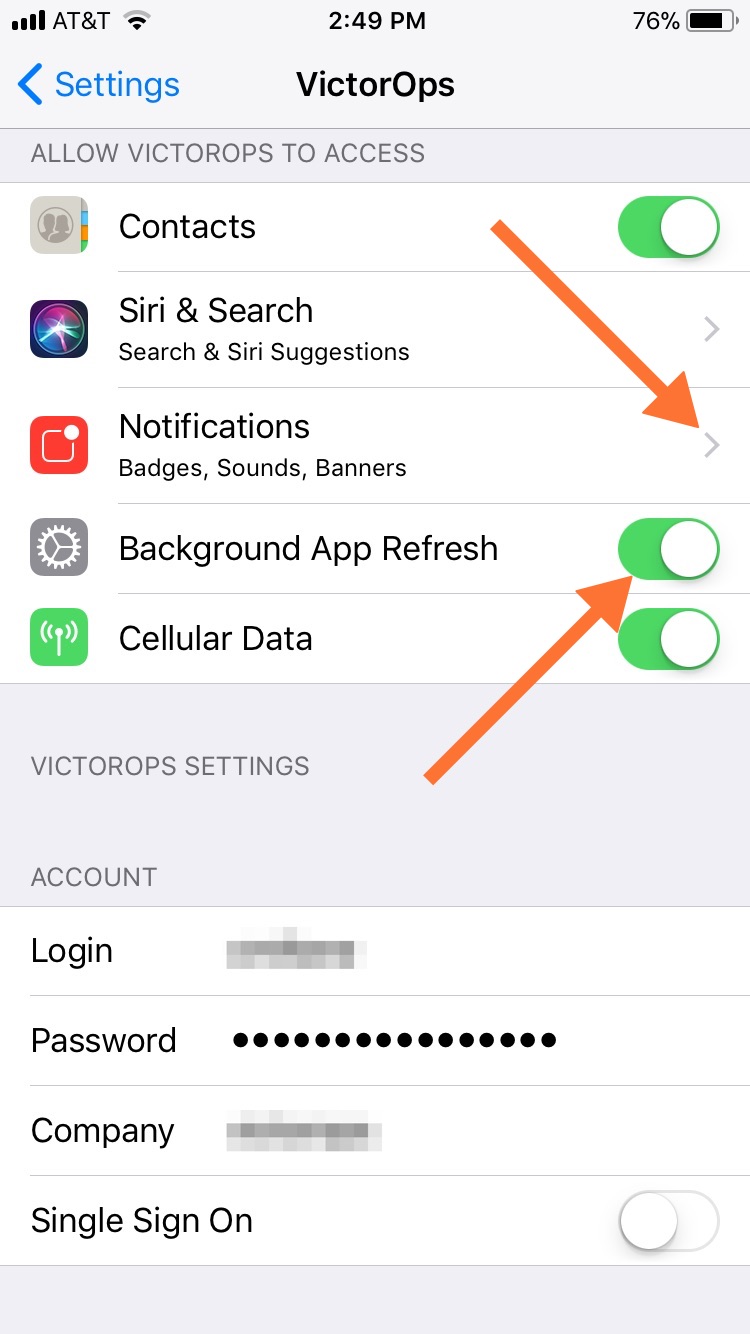 In the Notification settings section, make sure that all settings are turned on.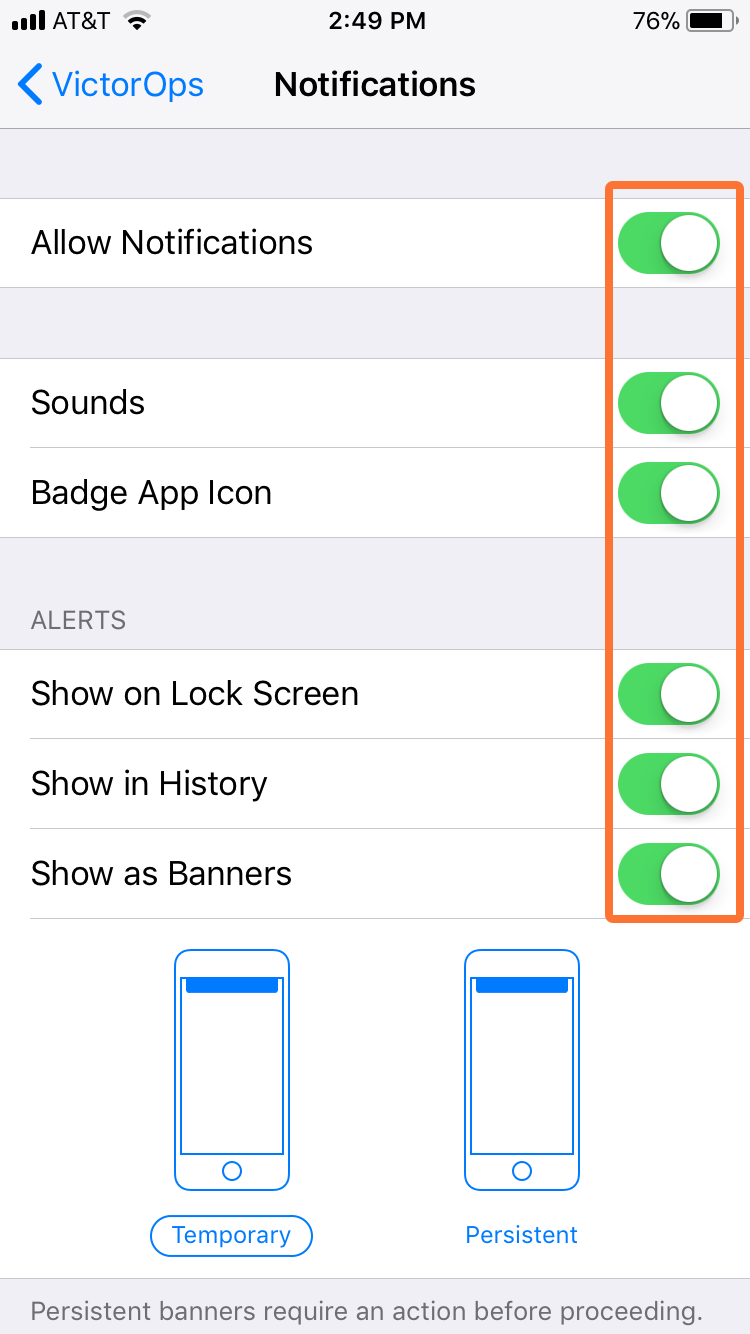 ---
Do Not Disturb Mode
To Override Do Not Disturb, you will need to ensure that you have added a VictorOps contact (see steps above). First, you will want to add VictorOps as a favorite in your contacts list.
To add VictorOps as a favorite, you will want to go to your Contacts -> VictorOps Contact -> Add to Favorites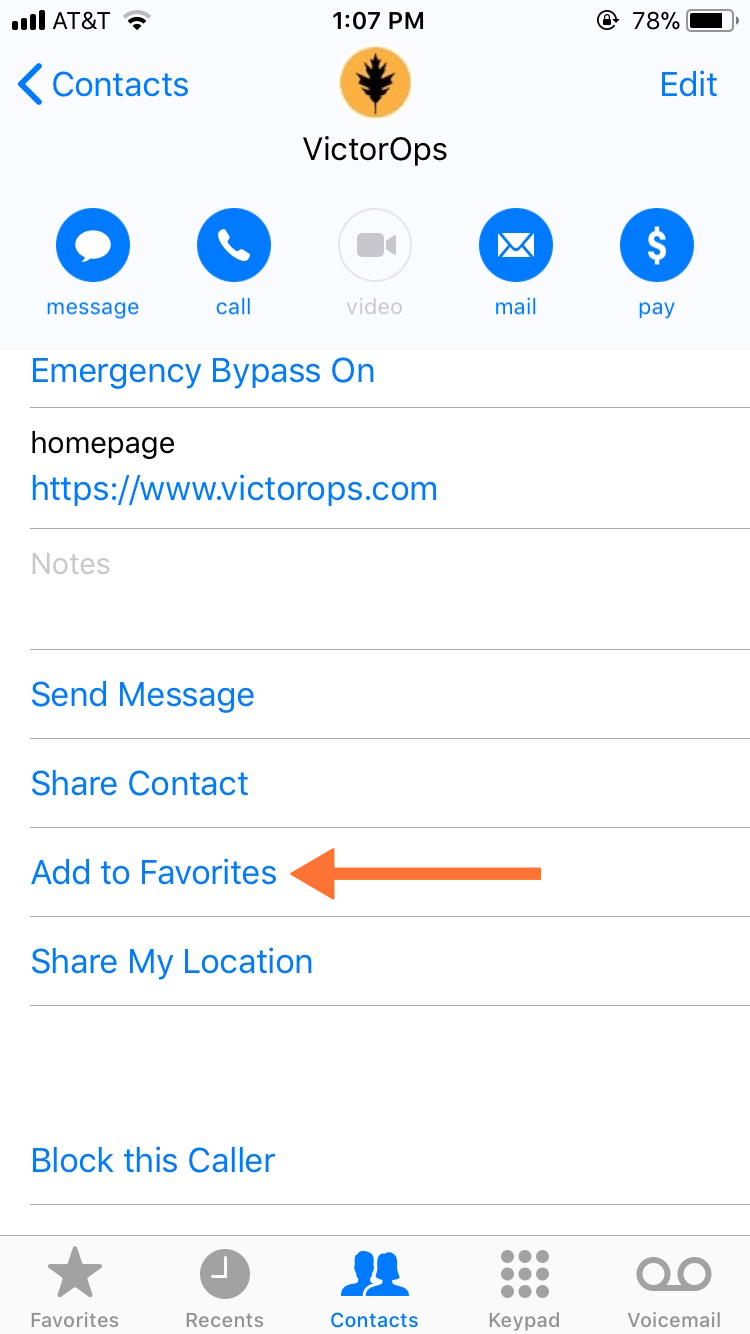 Please note, you will need to select SMS messages and Calls if you want these options to override Do Not Disturb.
Then, you will want to ensure you have the proper Do Not Disturb settings enabled. To do so, select Settings -> Do Not Disturb. Within Do Not Disturb, you will want to Allow Calls from Favorites, see below.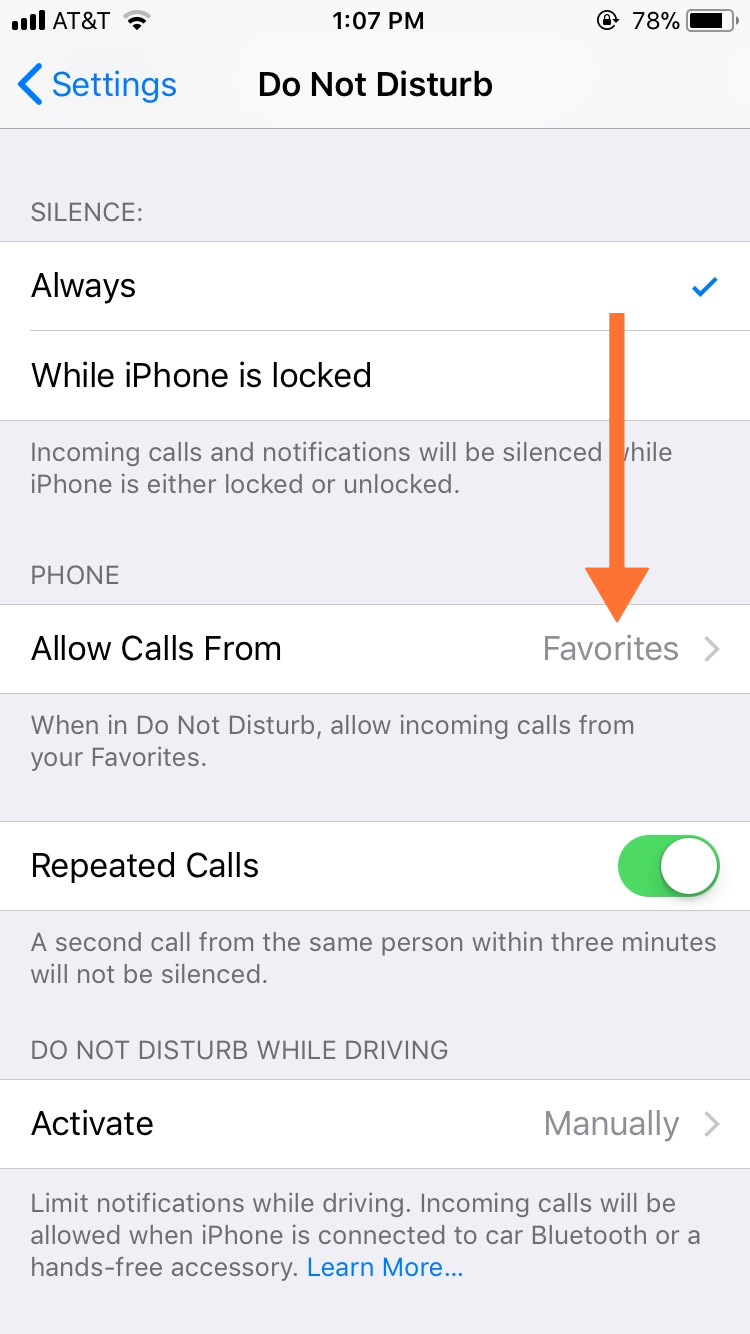 This will allow you to receive calls and SMS messages when you are in Do Not Disturb.
---
Emergency Bypass
You also have an option to set the VictorOps as an Emergency Bypass contact. This will allow the VictorOps contact to contact you even when you're in Do Not Disturb, and without adding the contact as a favorite. To add VictorOps as an Emergency Bypass contact, go to Contacts -> your VictorOps contact -> Edit.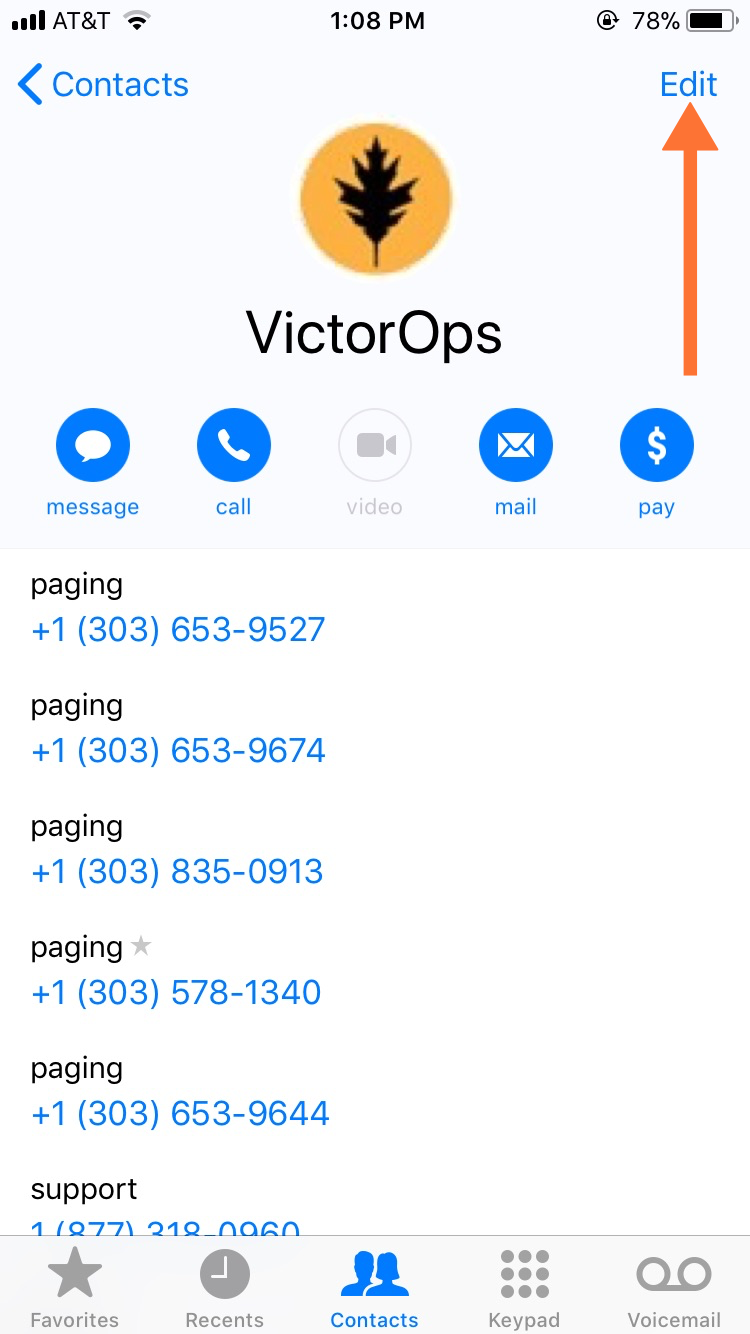 Once in the Edit screen, select the arrow next to Ringtone. Please note you will need to do this for Text Tone and Ringtone separately.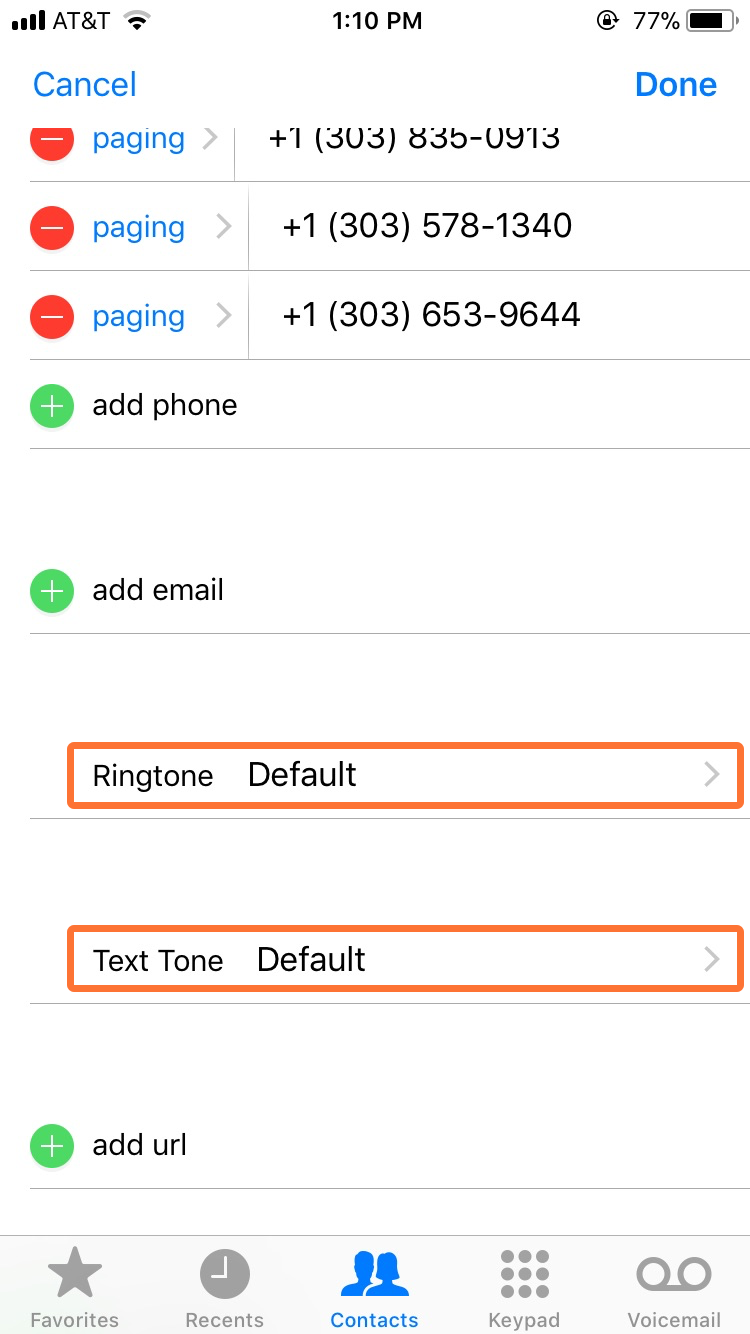 Within your Ringtone settings, turn on Emergency Bypass, then click Done.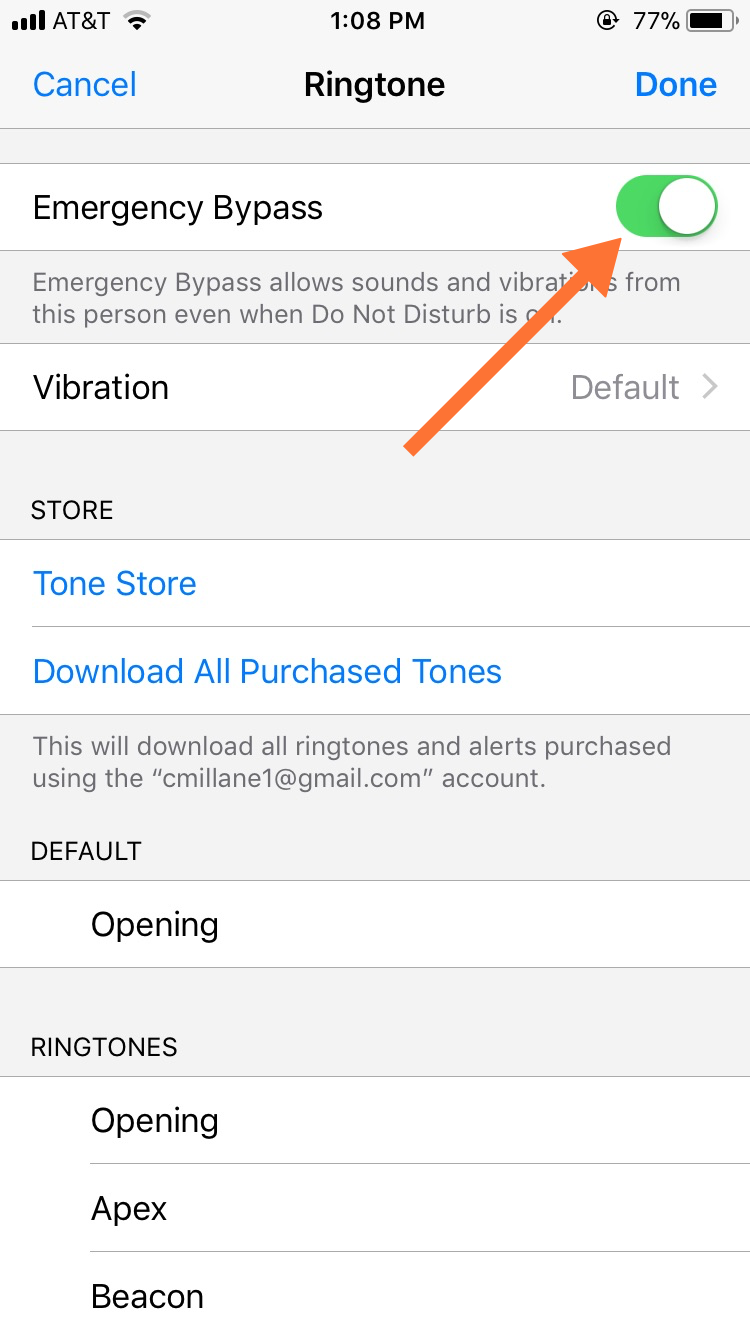 When you have turned on Emergency Bypass for both Ringtone and Text Tone settings, you will see the settings configured below, in Edit settings of your VictorOps contact.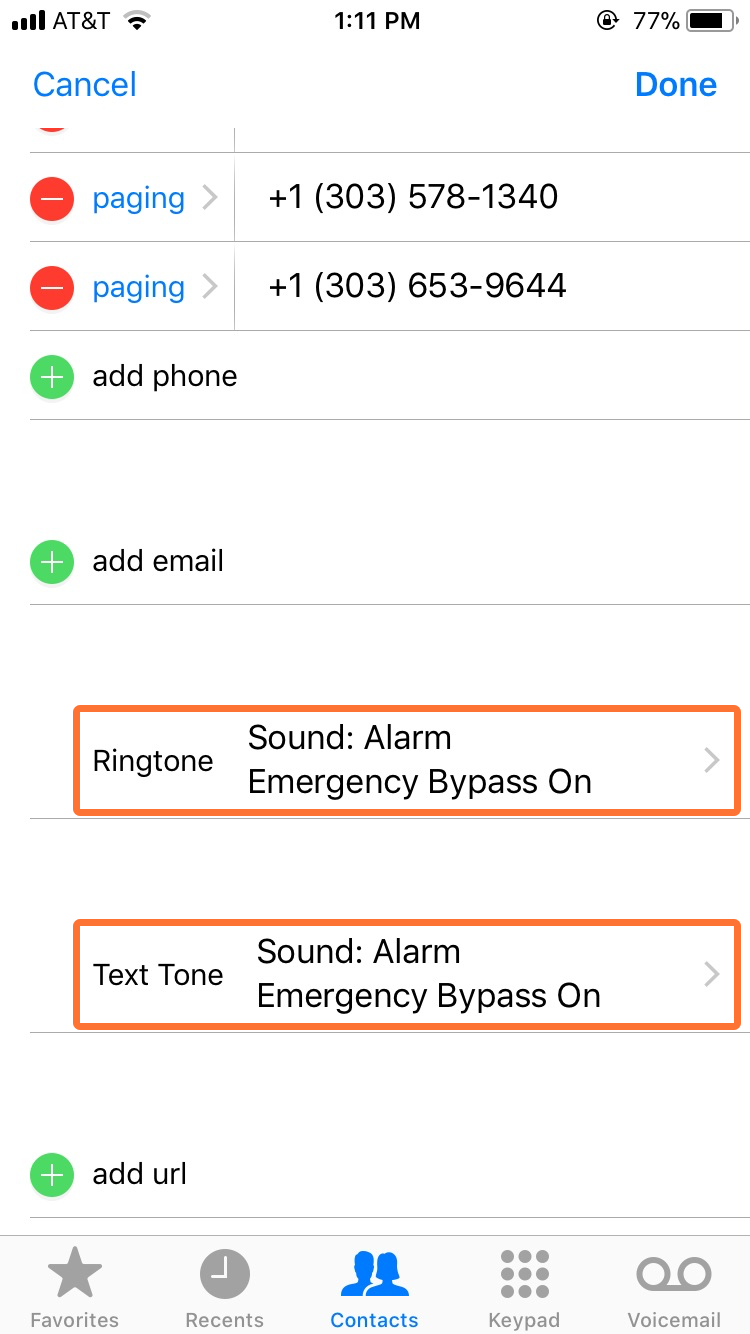 When you see these settings modified, as desired, click done. Then you will see the following on your VictorOps contact.
From this Settings area there is also the capability to edit the Notification type of sounds preferences to be made upon being paged. When clicking into 'Incident Notifications',  you will be redirected to a section to edit the sounds, as well as set your Lock Screen options and Notification Preview.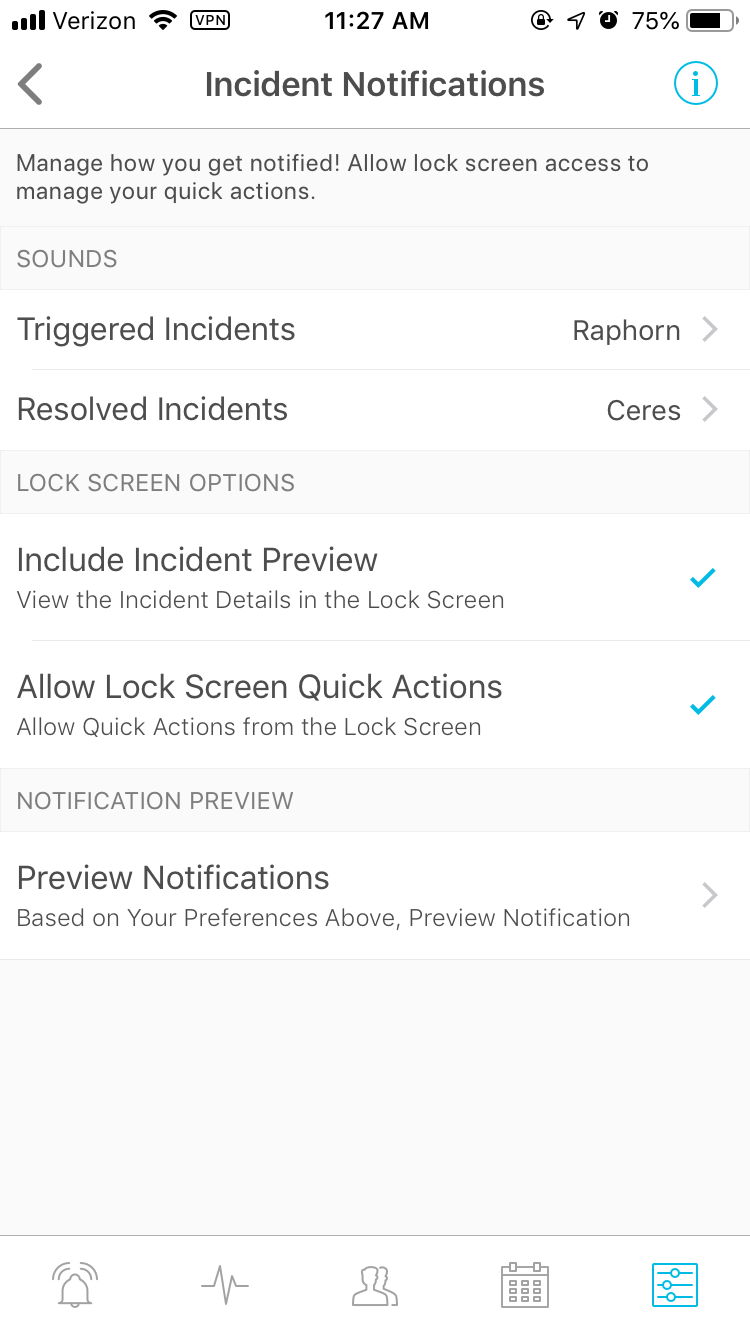 By clicking on Preview Notification you will see the following screen: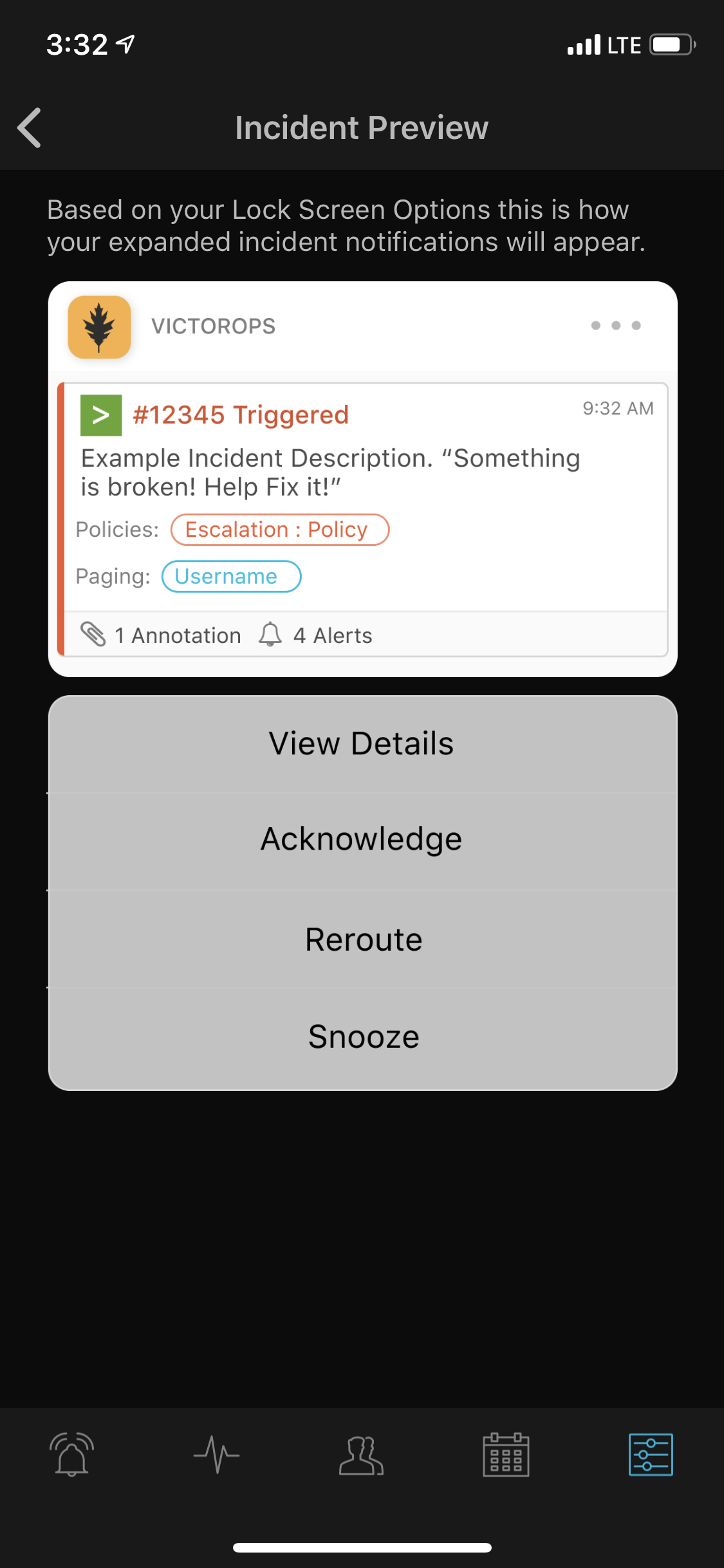 ---
Ack From Lock-screen
One of the VictorOps notification options is a push notification to the user's iOS device.  When a user is notified in this fashion, while their phone is idle (in lock-screen), they will have the option to acknowledge the alert directly from the lock-screen notification without the requirement that they unlock the phone and access the application first. This looks different on iPhone 6 and earlier versus iPhone 6s and later. For iPhone 6 and earlier, swipe left to see options like Manage, View, or Clear. By selecting View, you will see in the same as other devices.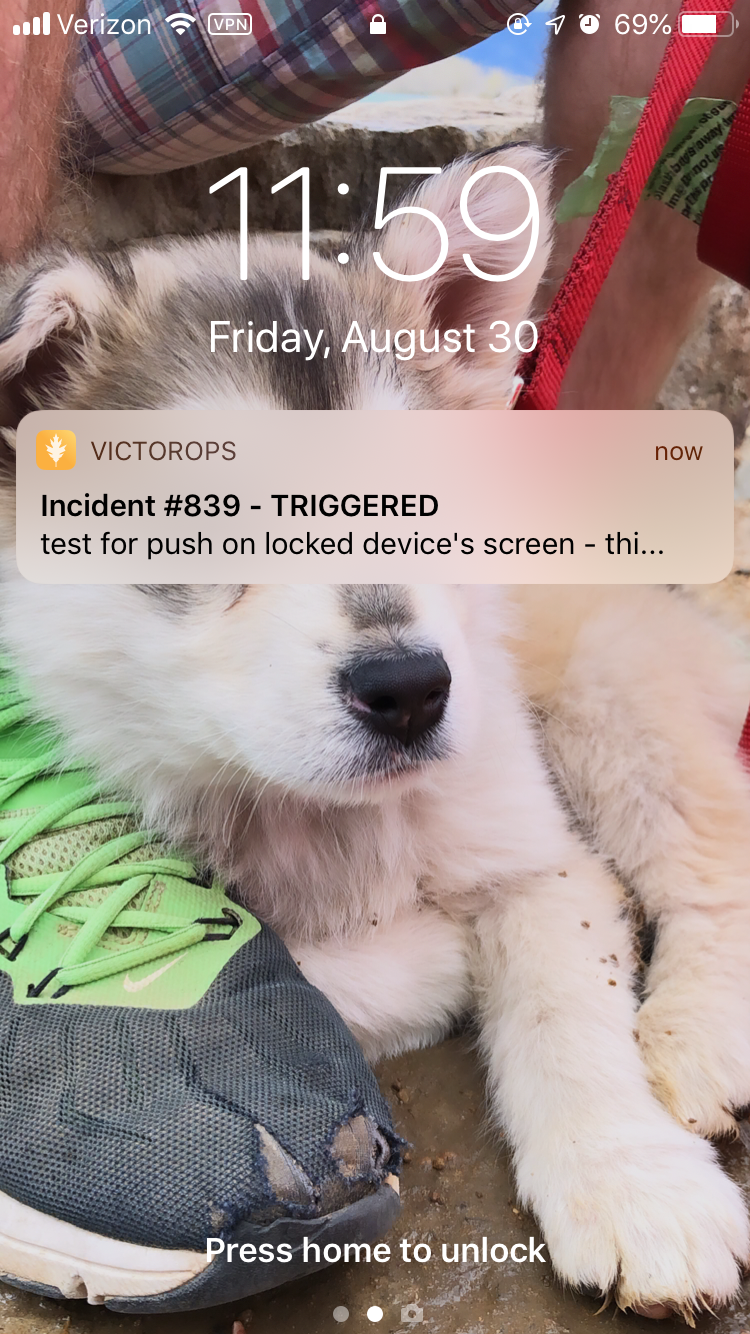 By Swipping to the left, you will see Manage | View | Clear to select from.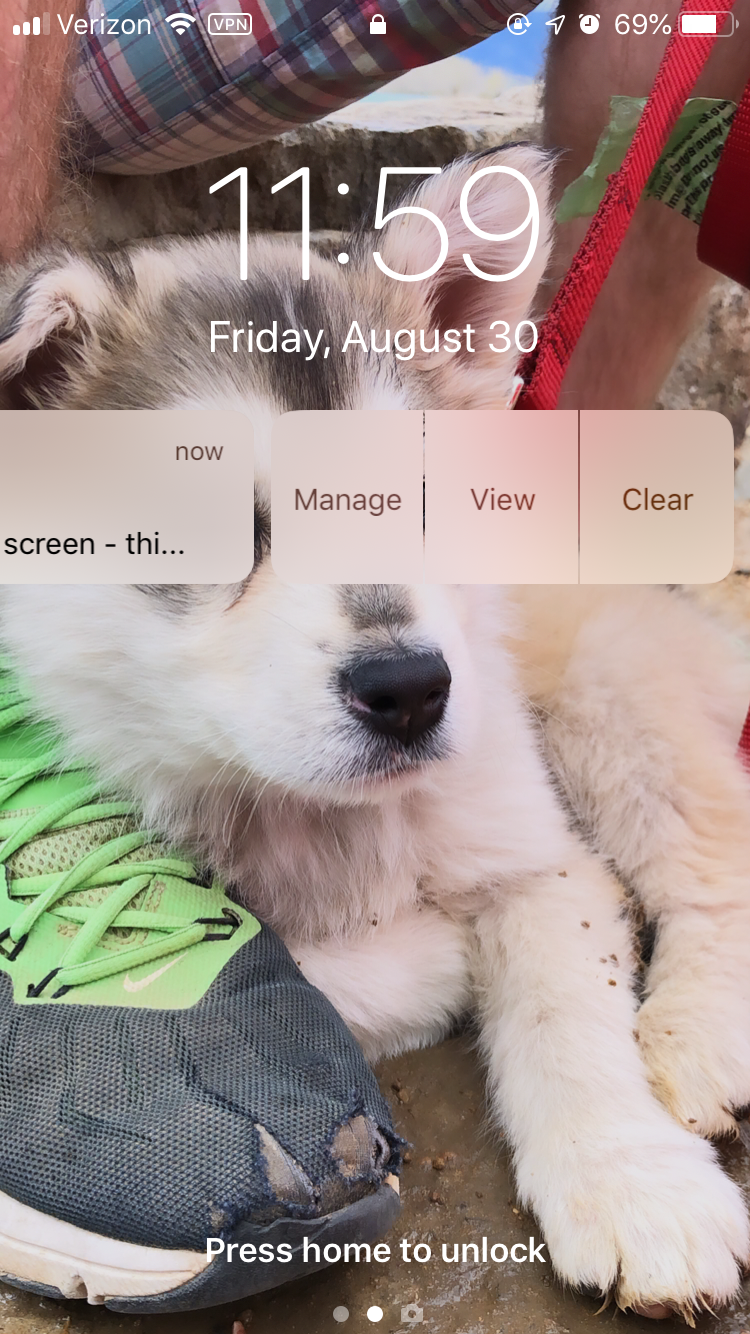 For iPhone 6s and later, press hard to activate the 3D touch feature and reveal all of the actions and options you can take.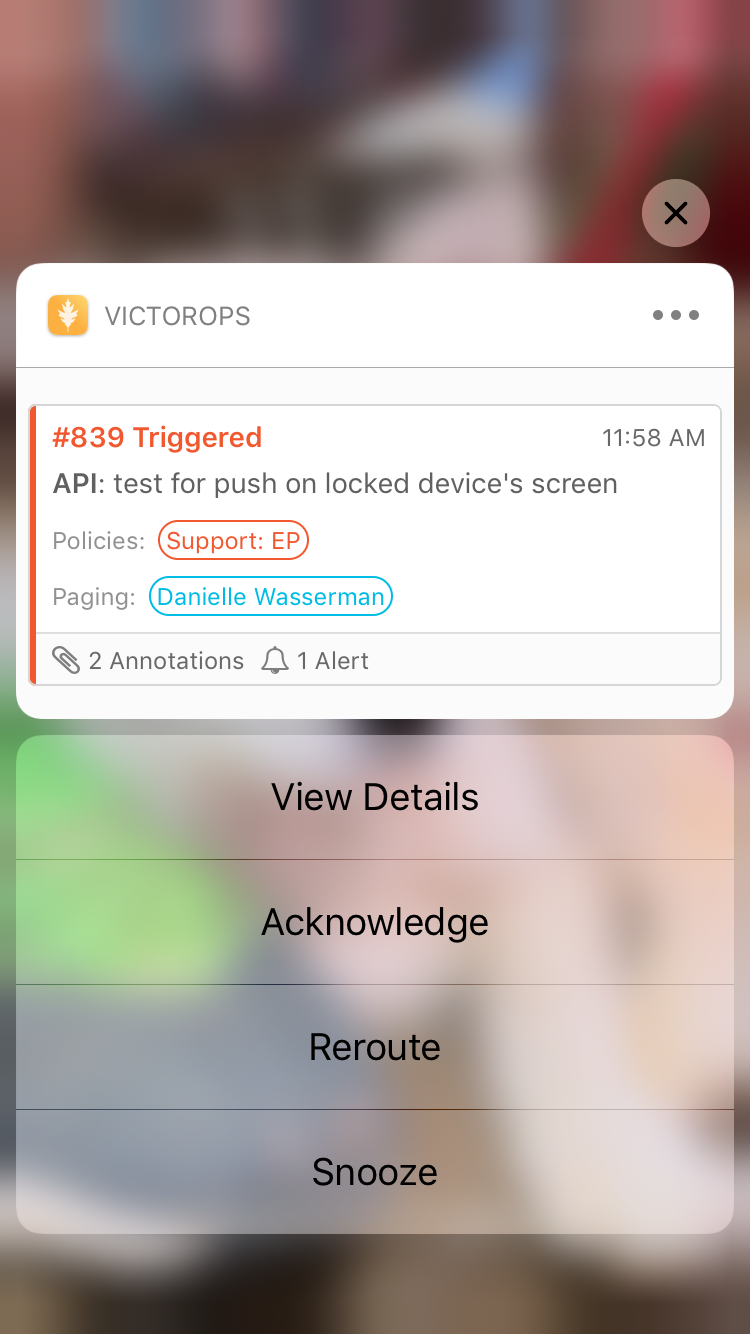 After you have acknowledged an incident, you'll receive a success notification confirming that your acknowledgment was successful.
iPhone 6 and earlier: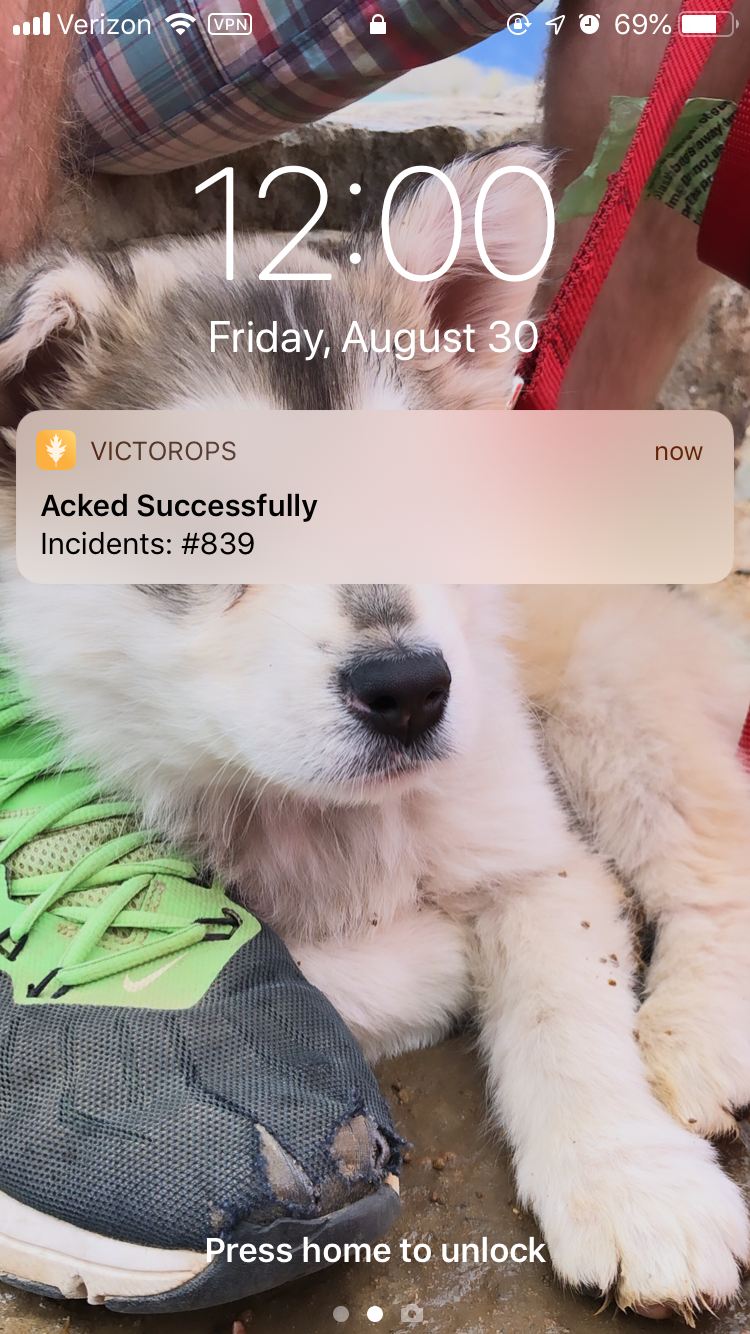 Acknowledgment via push notification may fail because performing the acknowledgment action requires that your phone is able to contact our servers via HTTP. If an acknowledgment action fails, you will receive a subsequent push notification indicating the acknowledgment failure and providing an opportunity to try again.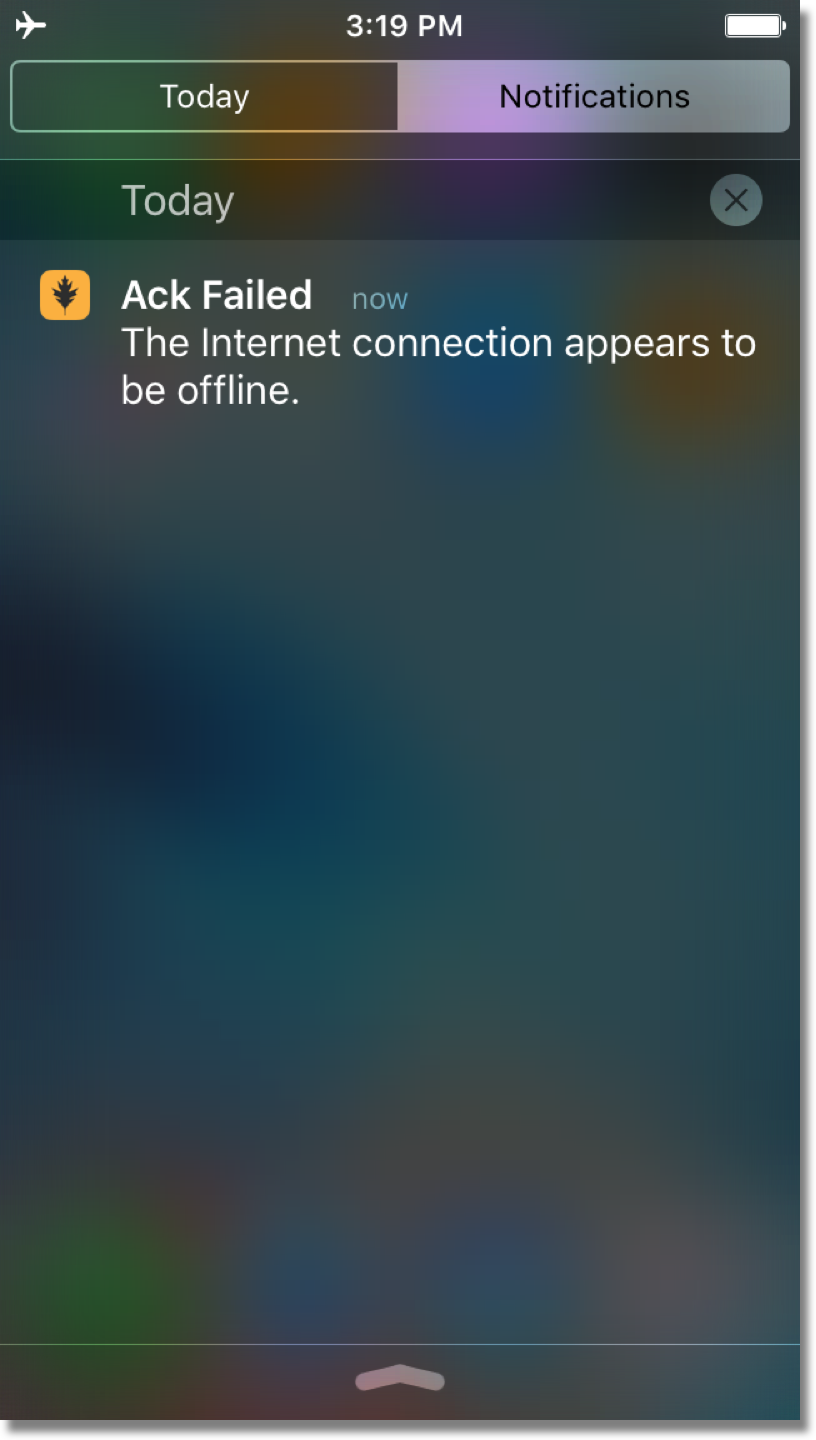 For iPhone 6 and earlier, you must slide the failure notification to the left to select Ack: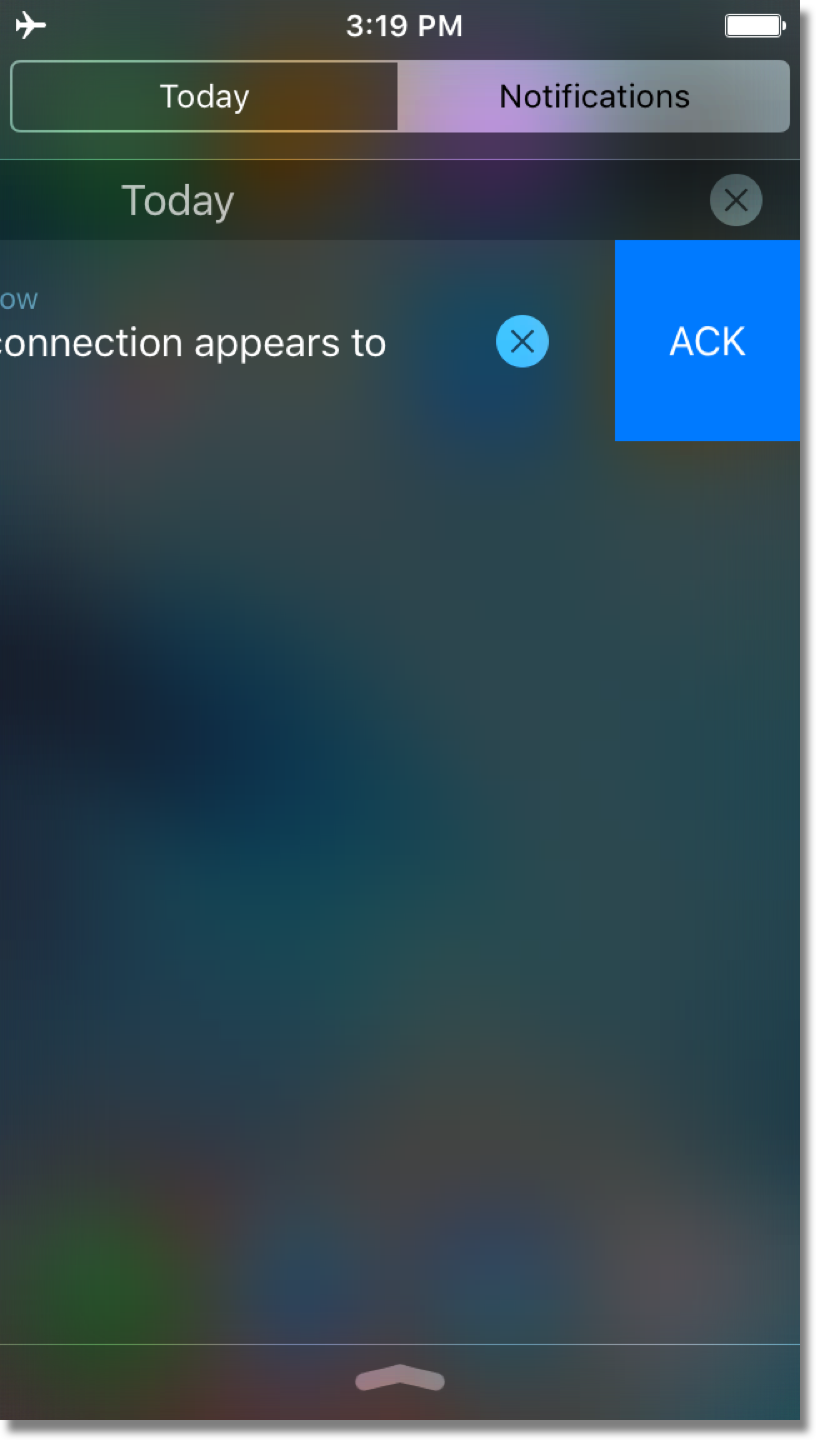 For iPhone 6s and later, press hard to activate the 3D touch feature and reveal the ACK option in the failure notification.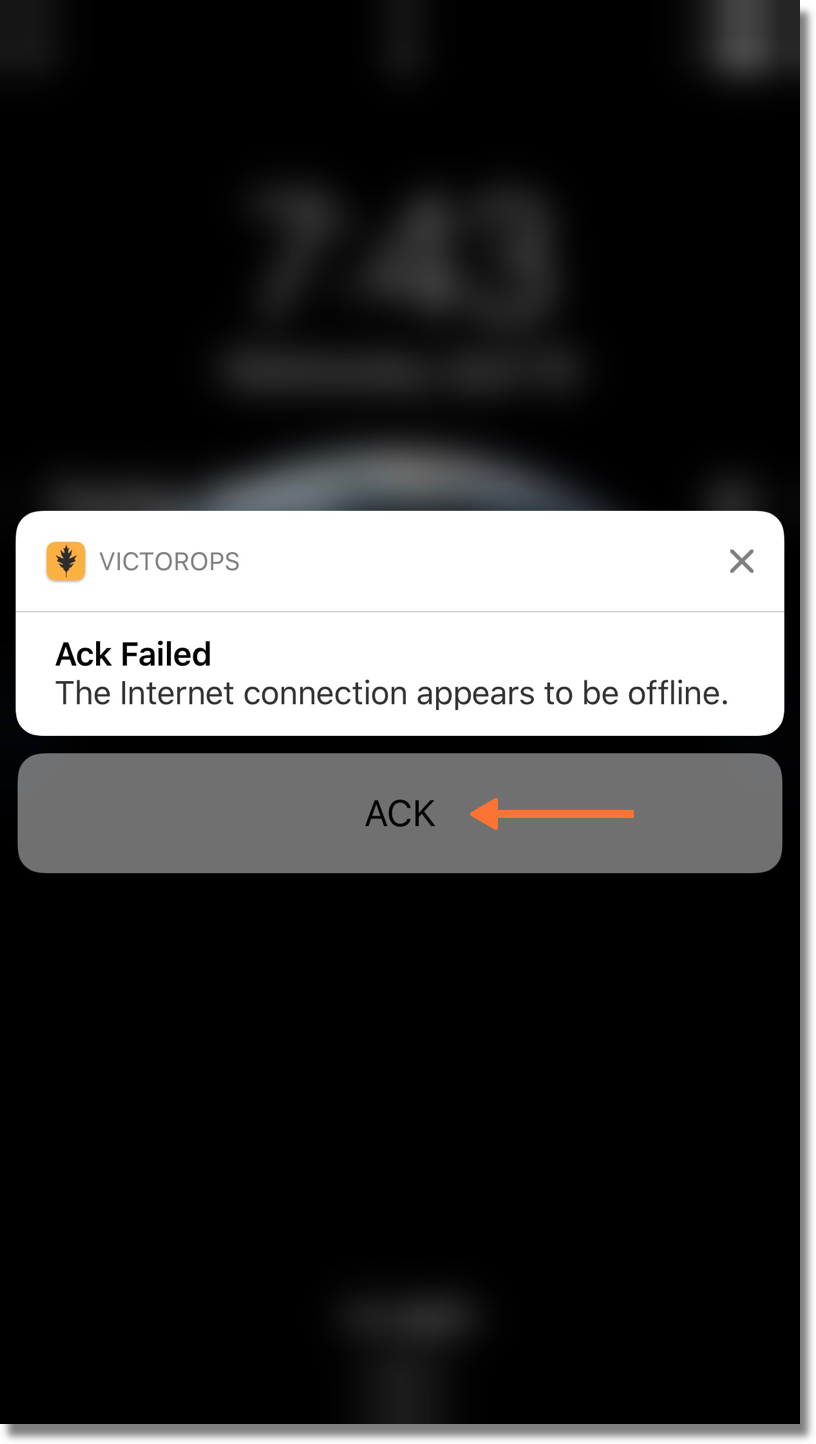 Take Override
From the App you may now Take and Clear manual overrides with teammates and other users within your organization as you would from the UI.
To do this please navigate to the Users tab in the App and select a user to override.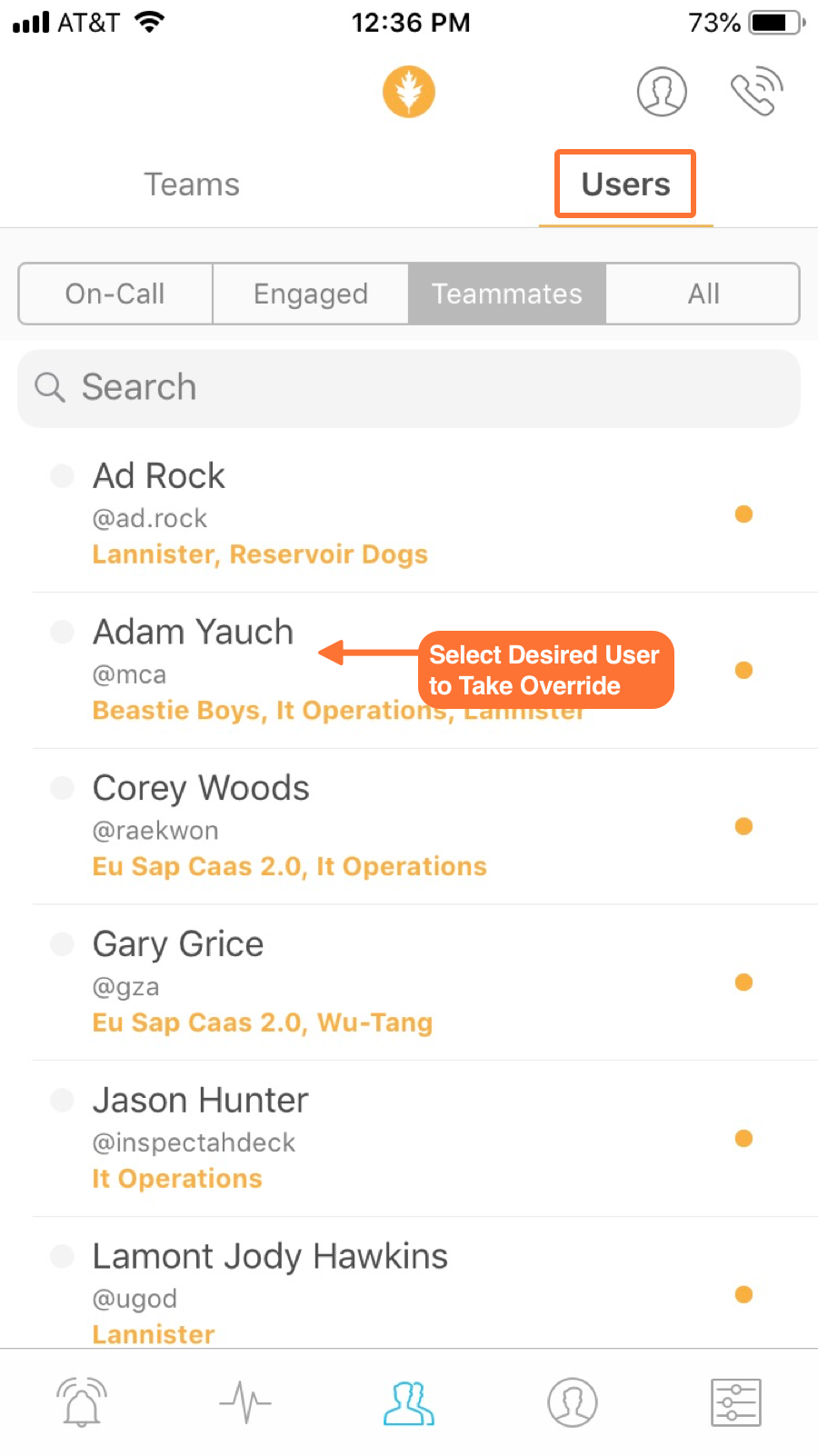 After selecting a User press the Schedule tab, swipe left on the desired Escalation Policy for override to reveal the Take On-call option. Please note: You may override for multiple Escalation Policies but you must complete one override at a time.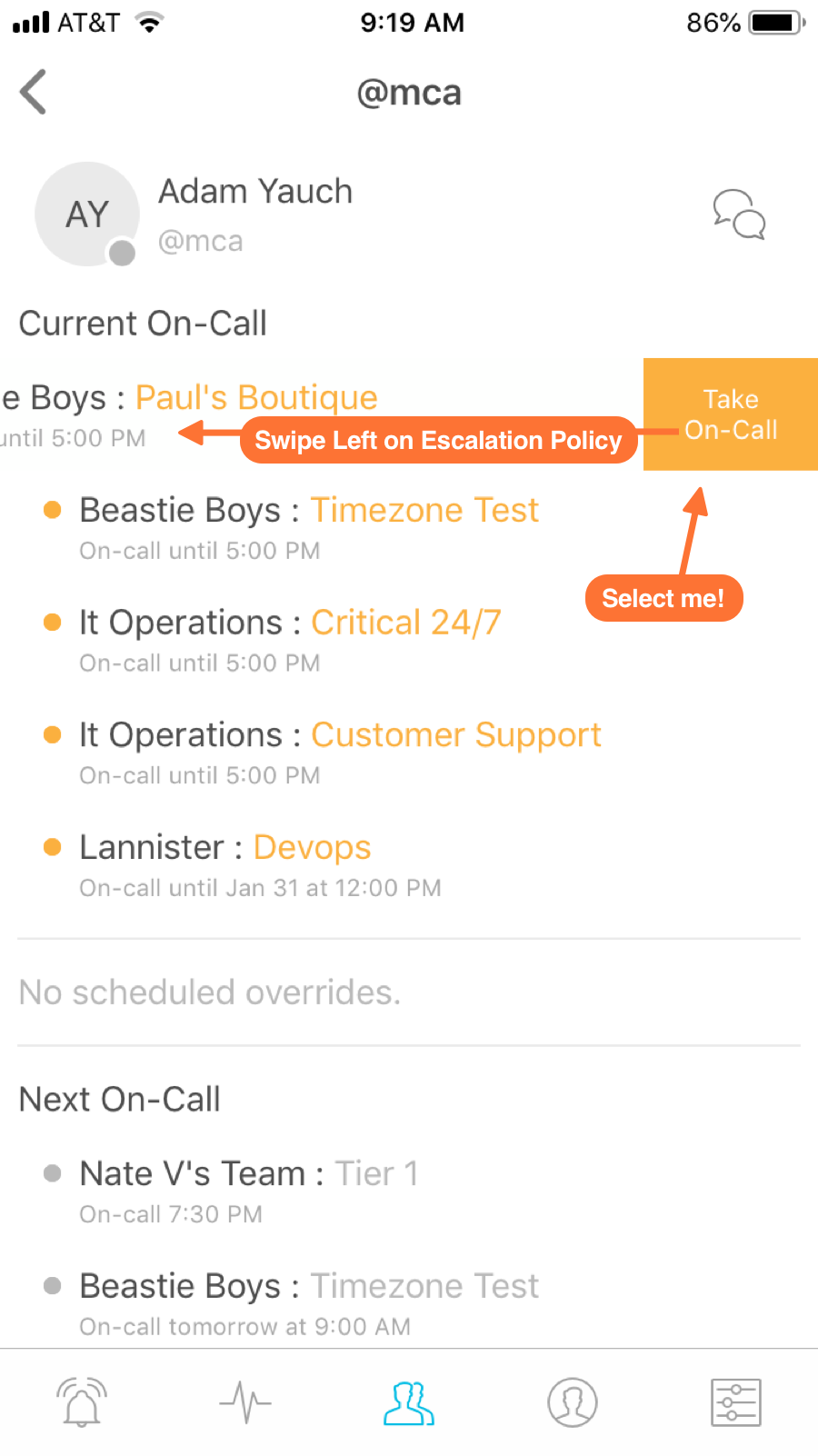 Once you've activated the Take, you'll be prompted to confirm the override.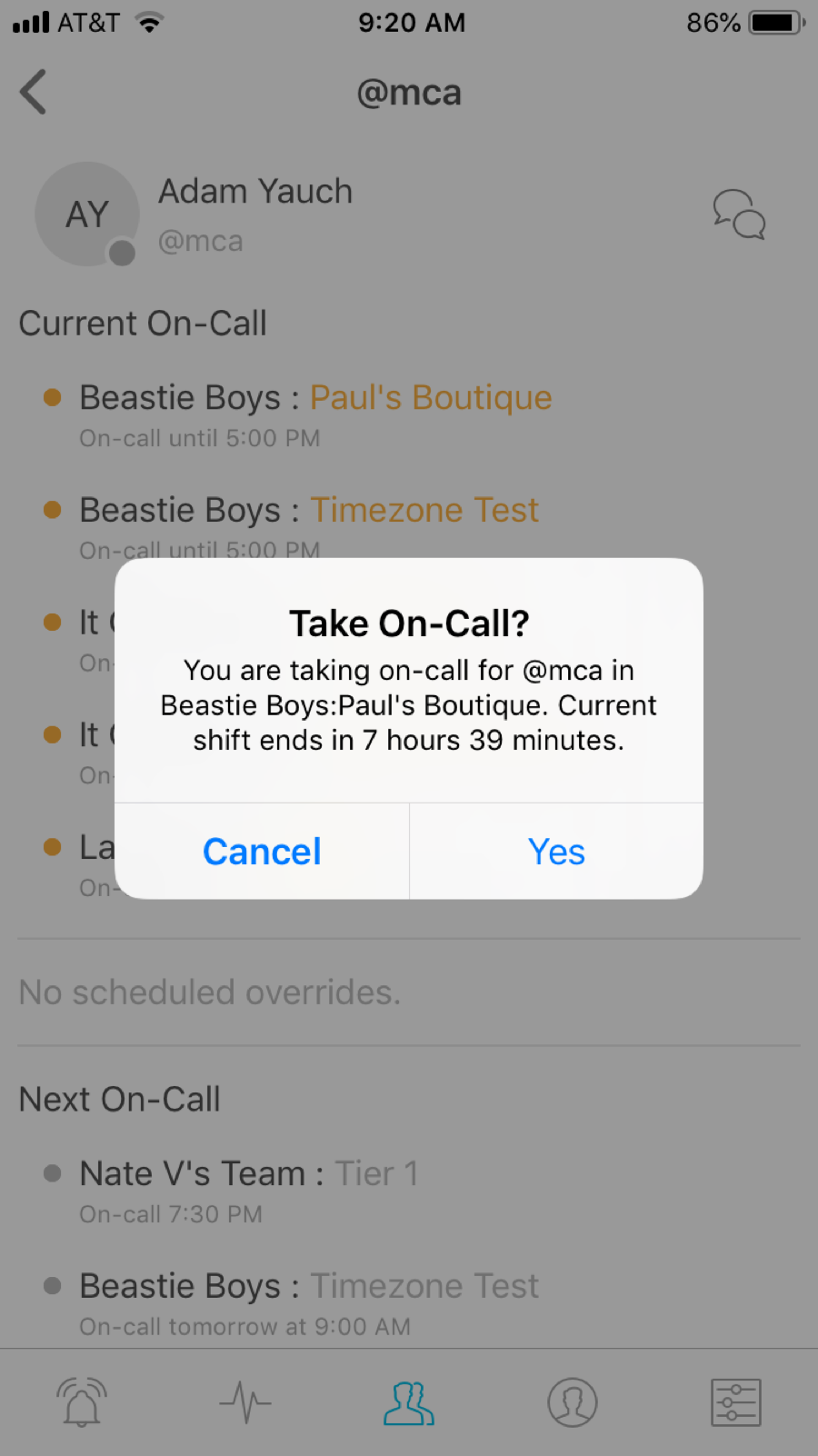 Next, you'll receive notification that you are now On-call in place of the selected user.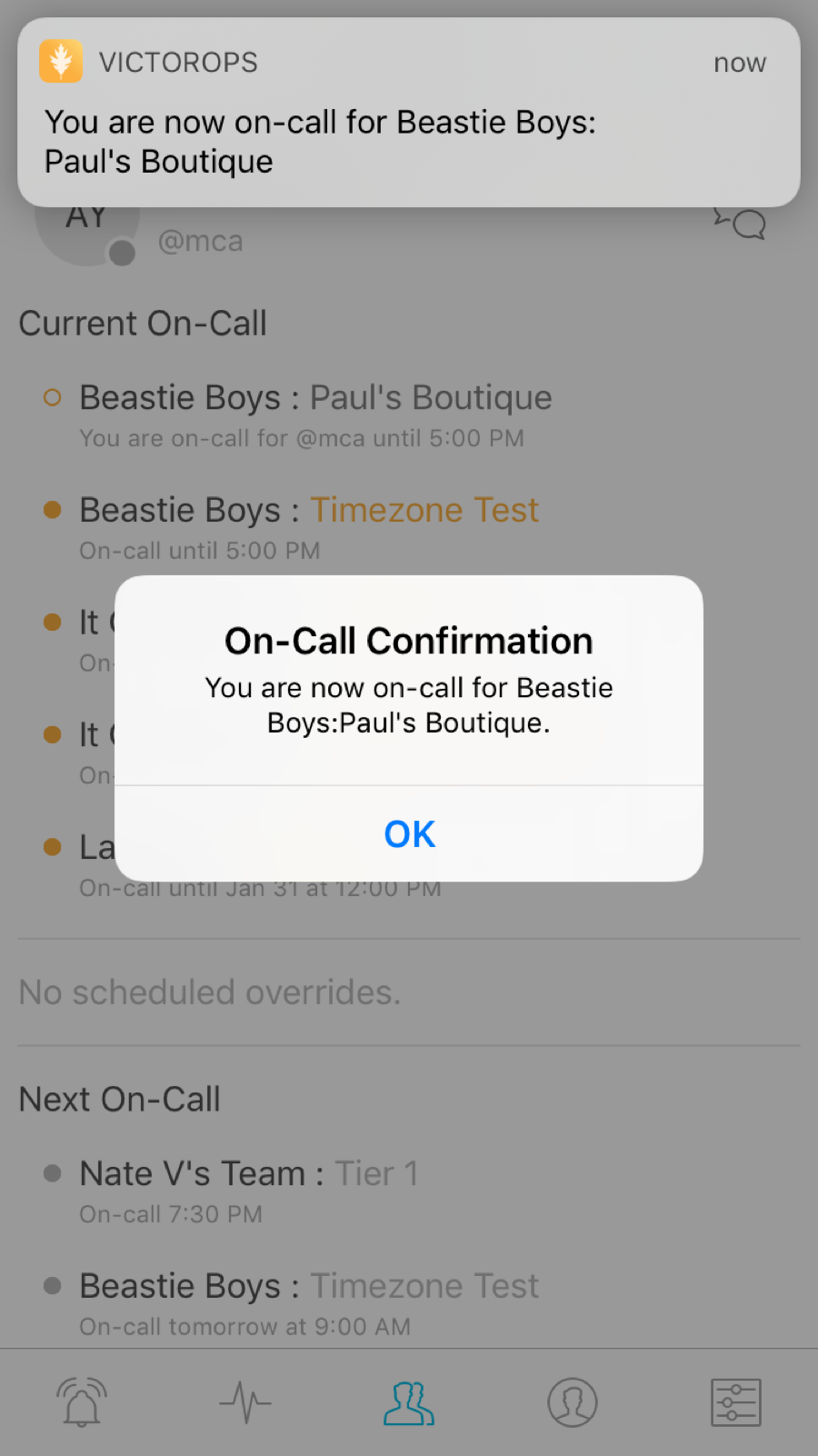 To clear the Take Override, just left swipe again on the Escalation Polices engaged in the active take and the option to Clear Take will appear. And that's it!